There's a common misconception among short term rental property owners that interior design is an unwanted expense that they can easily avoid.
But think about it for a second… Suppose you're going on a vacation with your family or taking time for a workcation away from home. Would you rather stay in an airbnb/vrbo place that looks dull and uninspiring or a stylish one exuding the essence of the area you're visiting?
Would you pay a little more for the latter?
In our market of Pigeon Forge / Gatlinburg, Tennessee, most people would… Beautiful mountain cabins are what people are looking for. I think you can agree it really applies to anywhere, though.
The truth is that having a design-centric mindset can mean higher nightly rates for your rental business. It's not an expense; it's an investment — and one with a high return rate.
The visual appeal of a place is a strong factor in the decision-making process when people evaluate holiday rentals. It plays as much a role as price, location, and convenience. A beautifully decorated home will invariably do better than one that offers the exact same comfort, but without an alluring decor.
Trust us – we have the data to prove this! Look at the five rental cabins below. They all have more or less the same layout, offer the same amenities, and sit within a quarter-mile of each other in Sevierville, TN near the Great Smoky Mountain National Park. One stands out with a more stylish decor and this directly boosts its nightly rate.
Case Study
As you can see, the first cabin generates nearly $100 more per night than the second cabin and $140 more than the last one. Clearly, they're doing something right. But what is it?
In this post, we'll break down some reasons the Green Sky Lodge is standing out amidst its competition and, to boot, offer you some fantastic decor tips to increase your nightly rental rates.
1. Look for the Ultimate Composition
The right composition can transform a common and dull space into a perfectly instagrammable listing. This relates first and foremost to your furniture choices.
What about adding a modern touch? You don't want your guests to think you haven't updated your decor for decades. There's always room for sleek and contemporary design, even in traditional settings.
Contemporary concepts and design elements will add style and elegance to your space. Choose pieces with fewer adorning features and frills. For instance, an excellent way to go for couches and armchairs is to pick them with thinner legs and textured, block color, or minimally patterned fabrics. These aspects will add a sense of lightness to your space.
Carpets are key elements. They help create a sense of space when they reach many pieces of furniture at once. For that modern look, choose soft colors or bet on textures.
Note that there is still a market for big and chunky furniture — think "grandma's house". This audience tends to be much smaller, much older and spends much less money. So if the goal of your short term rental is to have a good passive income stream, consider designing for your ideal audience and not your personal taste.
How did the Green Sky Lodge get it right?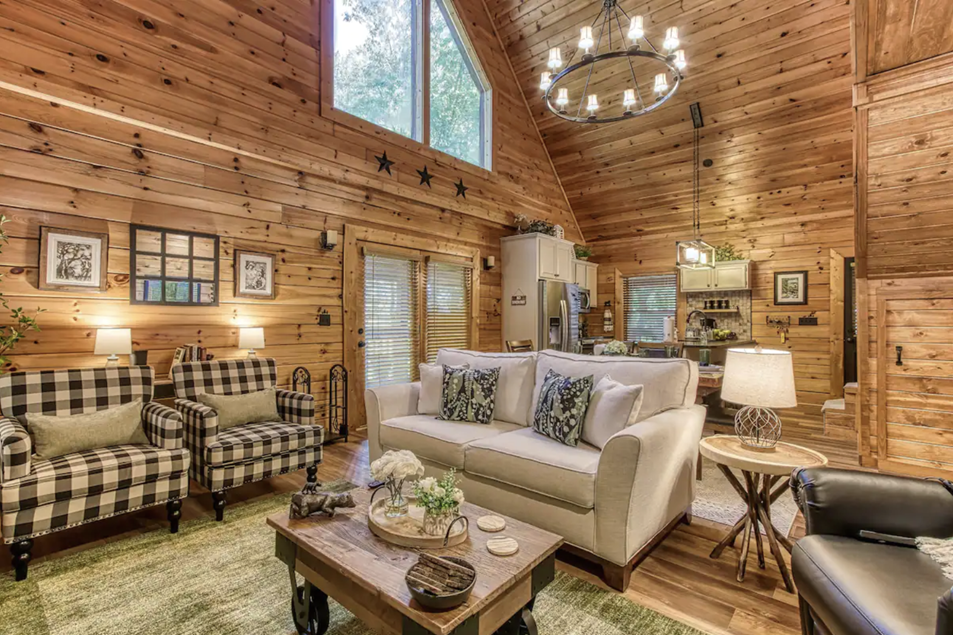 The Green Sky Lodge makes the right furniture choices. The sofa is not ultra-modern but has a simple and clean look. Its neutral and monochrome color plays a crucial role in lighting up a space already dominated by wooden tones. The armchairs have a traditional design, but their unexpected patterns contrast vividly with the sofa and add a bold, playful touch to the space. Composing the ambiance and large enough to touch multiple pieces at once, the textured rug adds a sense of elegance and length.
Notes from Hali
"Besides layout, scale, and contrast are equally important. Furniture first needs to be the correct size for the space before the layout can be optimized. Your maximum number of guests should all have a comfortable seat to relax in the living room and dine. By reducing the size of the furniture in the living area, I was able to add a recliner plus two ottomans."
"For contrast, it's preferable to avoid matching living room sets. A thoughtfully curated collection of pieces with different colors and textiles creates dimension and looks more sophisticated. A good formula is to pick two neutral colors of different values and then a third print that combines the two."
Hali Hoag, owner of Green Sky Lodge.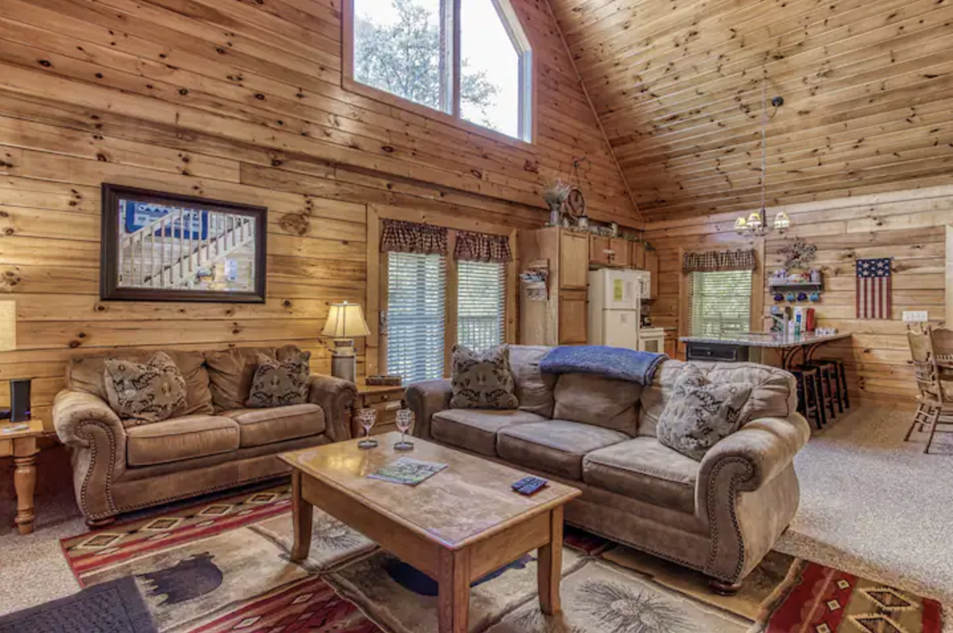 By contrast, in the living area of the Smoky Mountain Hideout, the furniture mix is not diverse enough. The brown sofa brings no lightness to the room, the coffee and side tables are rustic and heavy, and the rug, although in the right size, is too intricate and adds no contrast or style to the room.
2. Tell a Story
Still, not everything needs to be modern; vintage, intricate, and more pictorial pieces here and there can truly make a difference and add character to any living space. A good tip is to match these pieces with the history or feel of the surroundings.
You can pick artifacts made by local artisans or artworks that depict the nature or culture of the surrounding area. There's no better way to tell a story with your space and evoke an emotional response full of meaning in your guests.
How did the Green Sky Lodge get it right?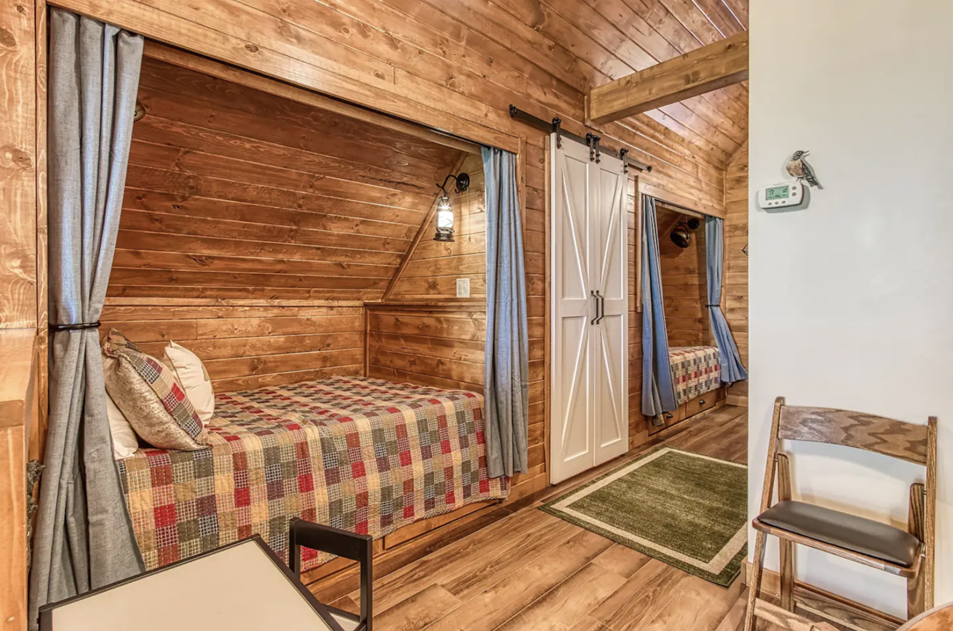 This barn-inspired bedroom in the Green Sky Lodge is excellent for children. It helps to tell a story, relates to the surroundings, and touches guests on an emotional level. Details like the bird on the air-con control make all the difference — they show how much you care.
Notes from Hali
"When it comes to telling a story or picking your theme, the easiest place to begin is with the name of your cabin. It can be something as simple as a color. For Green Sky Lodge, green is carried throughout the entire cabin, with the most emphasis on the main living areas and outdoors. It's supposed to be a celebration of nature and local wildlife. Each bedroom then has its own theme: the wild hare, the barn swallows' nest, the buck, and the bear. It's not over the top, just evidenced in details like the wall art, hooks on doors, and patterns and colors that relate to the ideas."
"Aiming for something fun and thoughtful without being too literal or tacky is the sweet spot to target. It creates a memorable vibe that guests may not even be consciously aware of, but that will leave a lasting impression."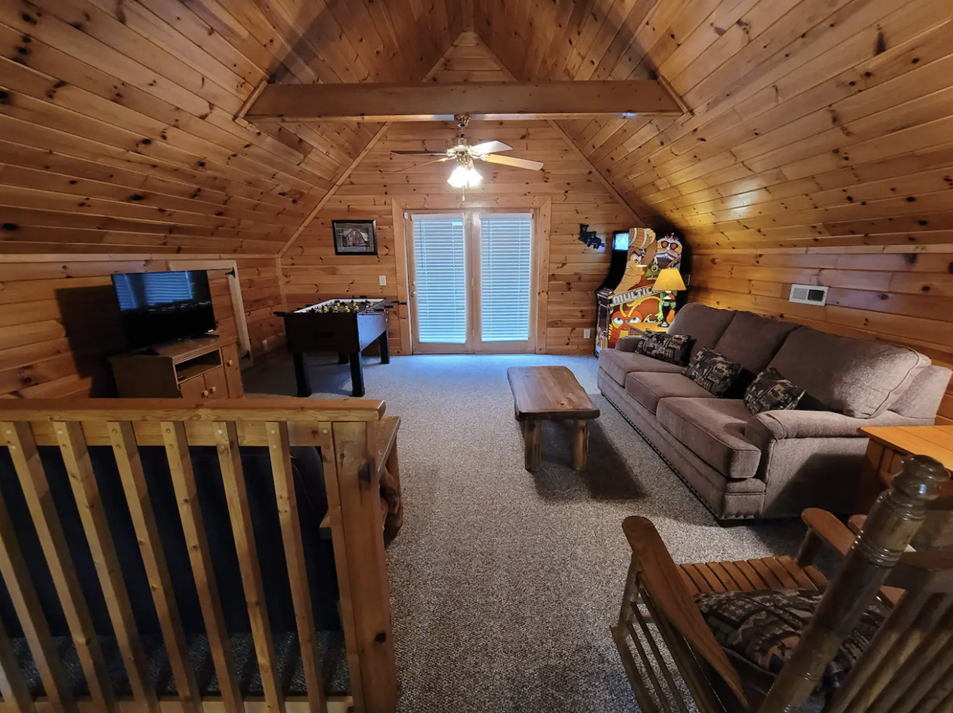 The game room in the Smoky Mountain Jewel has all the potential to be engaging and inspiring. However, the decor is not inviting, tells no story, and doesn't touch guests on an emotional level.
3. Mix Natural and Artificial Lighting
Every architect knows that lighting is one of the most critical elements in interior design. It relates directly to the way we perceive any ambiance.
Lighting, artificial or natural, can enhance colors, textures, and the overall mood of a space. The key is to strive for the right balance between natural and effective artificial lighting to improve your aesthetic.
It's always good to provide the entire area with general indirect lighting. Table and floor lamps give your space an emotional impact. They sometimes are built with sculptural quality and, as we've seen above, can add a modern touch or a bold statement to your room. Likewise, beautiful hanging lights add an extra charm and create a cozy atmosphere.
If you're looking for ways to transmit more natural light through the rooms, mirrors can be very helpful when placed near or opposite windows.
Remember that natural light is good, but sometimes it can be too much. In that case, curtains and blinds can ensure that the room is not too bright. You can play with the level of transparency and aim to diffuse the light smoothly throughout the room. Since they come in various materials, textures, styles, and colors, they can also do wonders to your interior design.
Hot tip: consider where the sun rises and sets in your space; this will affect how you arrange lighting options in the room.
How did the Green Sky Lodge get it right?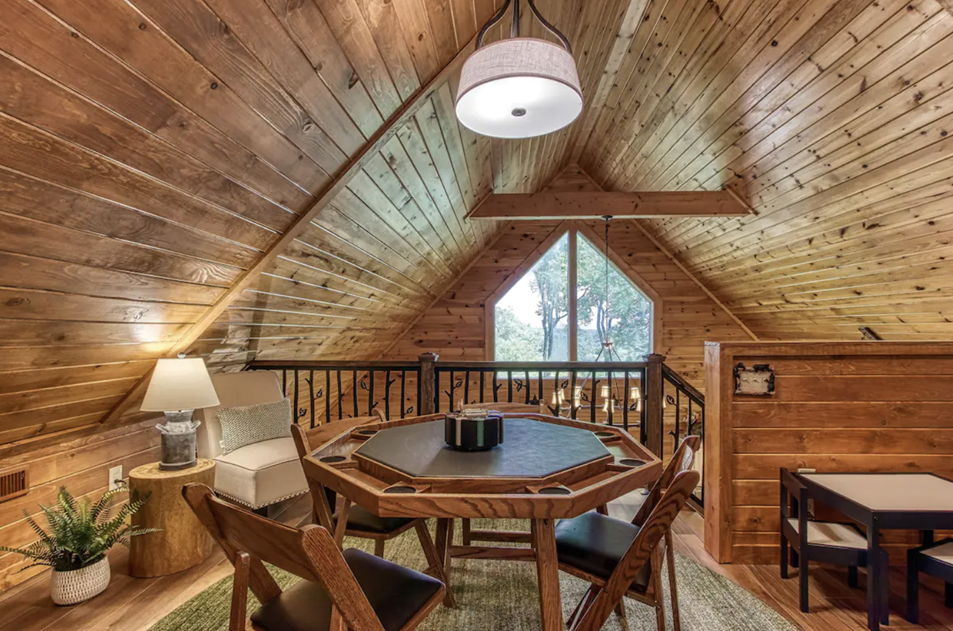 The Green Sky Lodge gets it right by perfectly balancing natural and artificial light. It frames nature with large windows that allow a fresh feeling and lots of natural light. It also uses the sculptural quality of artificial indirect lights to add style and coziness to the ambiance.
Notes from Hali
"It's nice to give guests more options to control their light with dimmer switches or curtains. Never use led "daylight" bulbs or fluorescent lighting. The wavelengths from these bulbs have very harsh spikes that act like daggers to human eyeballs. It hurts to look at, feels very cold and deadens the color and atmosphere of any room. Soft White led and halogen bulbs are much warmer, and the light creates a gentle wavelength curve that feels pleasant to look at."
"As for curtains, every bedroom should have blackout curtains, even if there are blinds. Sheer curtains are preferable for living rooms as their function is more decorative and only to softly filter the light."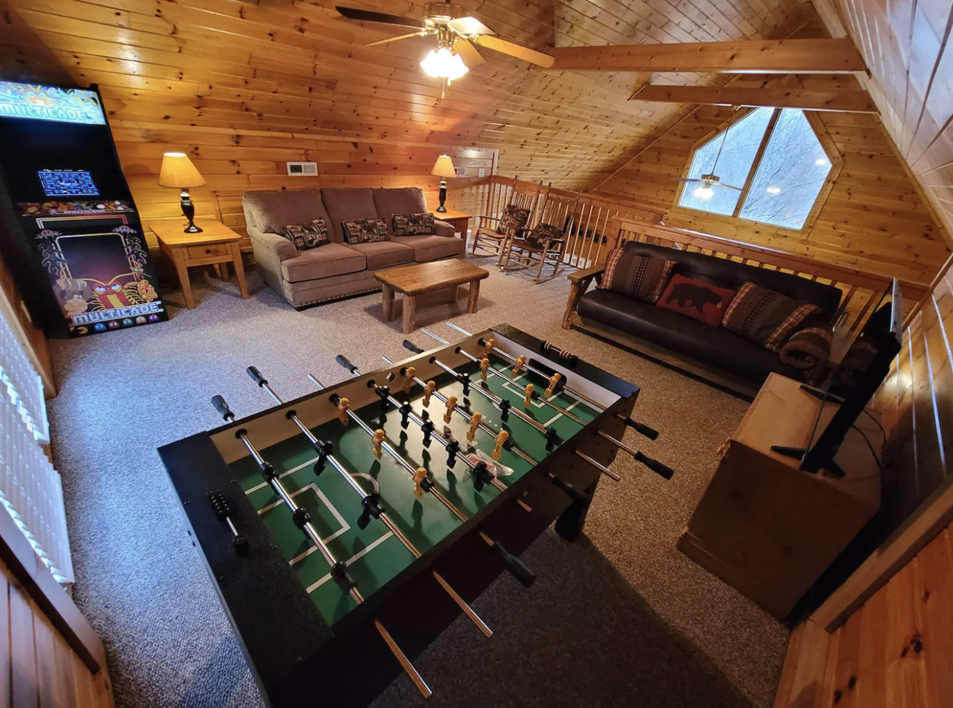 Once more, the game room at the Smoky Mountain Jewel fails to make use of its potential. The placement of the couches does not emphasize the nature view through the large glass window, and the choices of indirect lighting are conservative and dull.
4. Bring Greenery In
Another good way to bring personality to your room is to make the most of what indoor plants have to offer. This time, it's not all about the aesthetics: studies show that most people find it refreshing to live in places with beautiful pockets of greenery around them. That's another reason for you to bring greenery in.
House plants create soft local points throughout the living space. For instance, they can make your coffee table more alluring and add that feel-good green sensation to your bedroom.
Guess what? They don't always need to be real. You can also use faux plants to give your interior a refreshing feeling. These are definitely easier to take care of and, nowadays, they look so much like the real thing that you wouldn't know the difference.
You can also bet on nature-inspired art on the walls (especially in bathrooms, they give them that spa feel) or patterns in furniture and curtains for a refreshing look.
A good idea is to frame the nature outside with sizable open glass windows and bring nature in. It's the perfect way to establish that seamless connection between the indoors and outdoors.
How did the Green Sky Lodge get it right?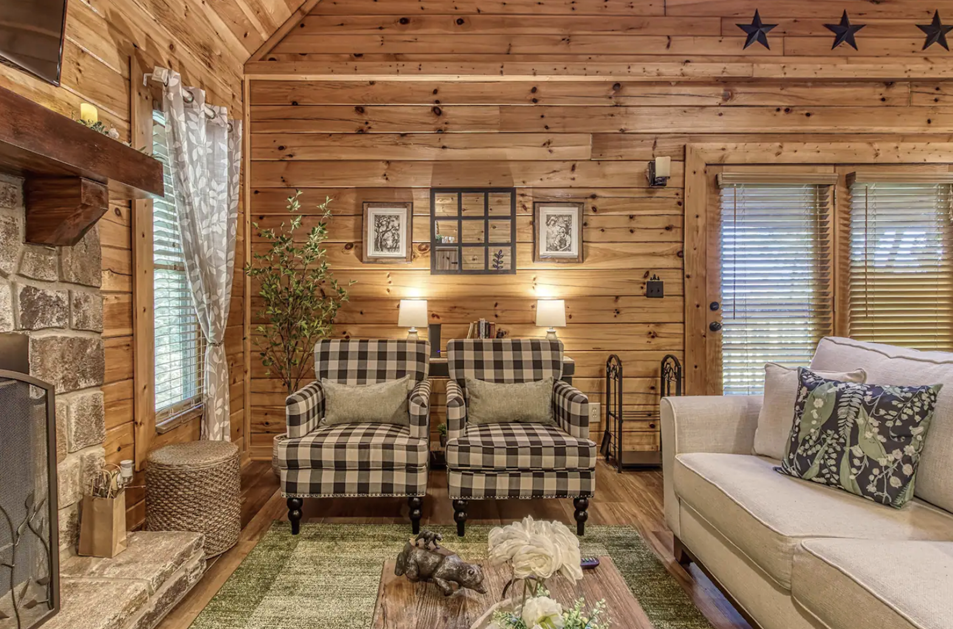 House plants bring a feel-good and welcoming sensation to interiors. You can also bet on nature-inspired art and patterns. In the Green Sky Lodge, they look great on the walls, curtains, cushions, and even the fireplace railing.
Notes from Hali
"When selecting artificial plants, be mindful of how children and guests are going to interact with them and that they (mostly) make sense given the geographic location. Sure, they're not real, but a tropical plant doesn't make much sense in the Smokies!"
"Faux plants with plastic foliage look more realistic, are more durable than silk and easier to clean. It's a nice touch to change out small arrangements on coffee and dining tables seasonally, if possible."
"For small tabletop arrangements, the ones in which the flowers are attached with resin at the bottom are ideal as they won't fall out when tipped over and they look more realistic. You can create your own using pebbles and clear gorilla glue. Hobby Lobby, Amazon, and Wayfair have wonderful selections of realistic artificial plants, trees, and seasonal arrangements."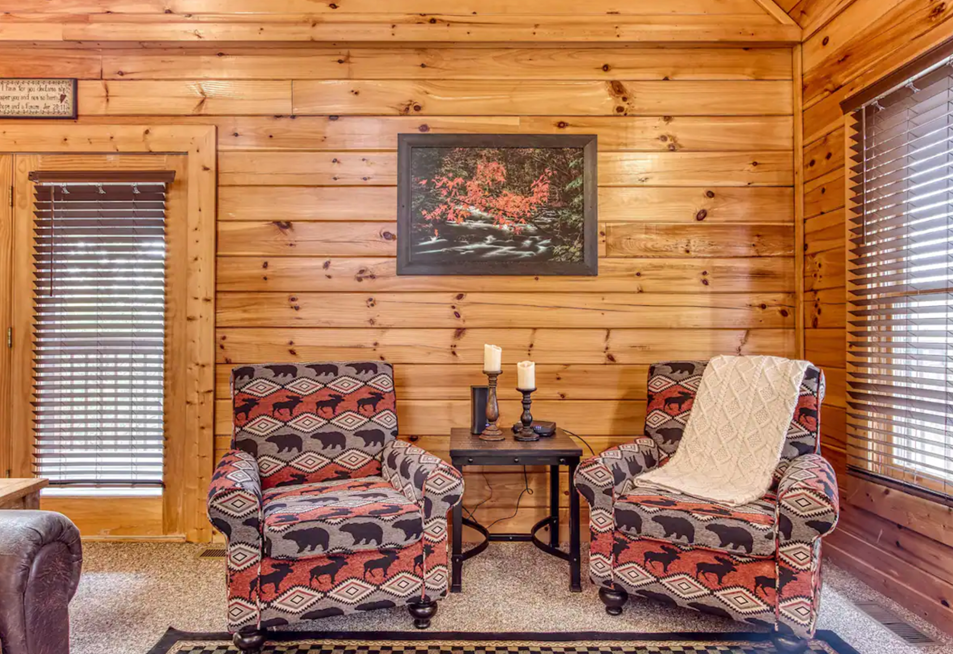 This corner at the Cubs Cozy Den needs an extra touch of greenery. The artwork on the wall features nature, but it is still monochrome. Nothing brings freshness to the ambiance.
5. Spruce Your Outdoor Areas
Speaking of the outdoors, if you have a balcony, rooftop, terrace, or porch, don't think you can simply leave them forgotten. Instead, why not use these spaces to add value to your rental?
No matter how big or small these spaces are, there's always room to add personality. Think about their use first. Is it a place for a social gathering or more of a quiet spot, somewhere to read a book on a comfy chair with a hot cup of coffee?
With that in mind, your outdoor space should reflect the same sense of interior style, with the right composition of furniture, plants, and accessories to add character and functionality to the space. The way you maintain your outdoor area says a lot about the way you maintain your property as a whole.
Put some thought into it and you'll offer your guests the perfect escape within an escape.
How did the Green Sky Lodge get it right?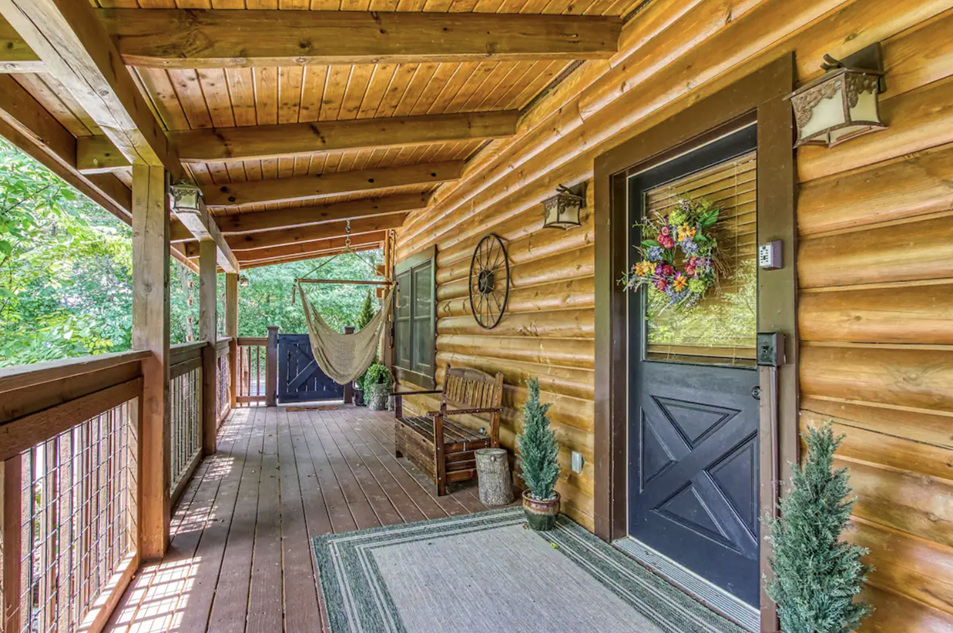 The Green Sky Lodge takes as much care of the outdoor spaces as it does of the indoor rooms. It offers an ideal mix of furniture and plants, including a carpet and sitting hammock. The result is an extra refuge for their guests and adds value to the rental.
Notes from Hali
"Outdoor rugs really work wonders for defining areas on a large deck. They create little 'rooms' and can even improve the function of furniture. On a deck, rocking chairs move forward and back with more ease when placed on a rug and it also softens the noise. The outdoor areas are also very functional spaces. Consider giving guests a spot to sit, take off dirty hiking boots and a place to hang up wet ski clothes to dry outside. This will also help keep the interior of your cabin cleaner!"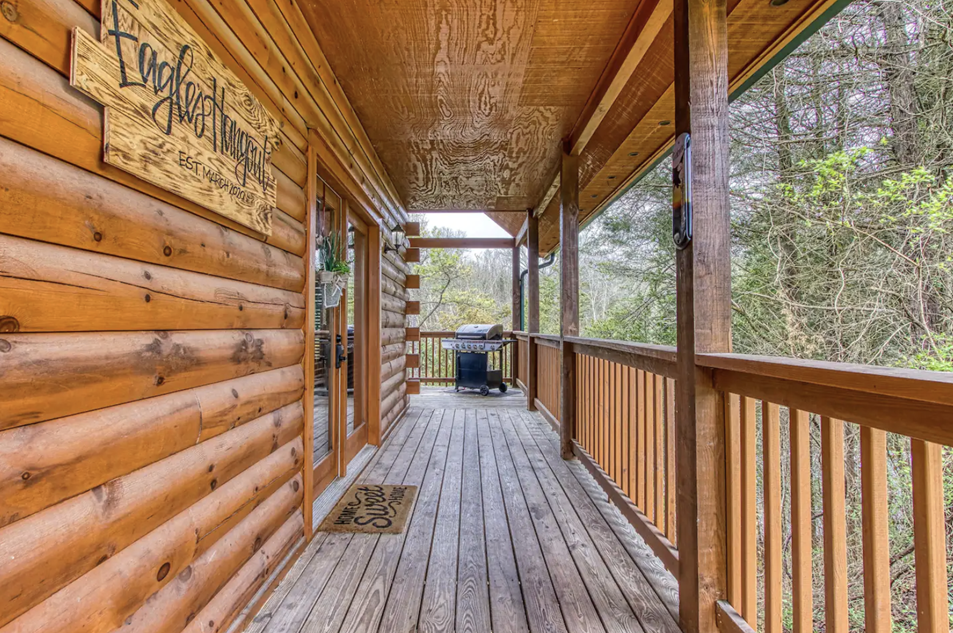 This balcony at the Eagle's Hangout faces nature and has all the potential to become a great space in the cabin. However, nothing invites the guests to spend some time in it and appreciate the view.
6. Bonus tip: Make Your Kitchen Look Fancy
The kitchen is a central space in any family holiday rental, they're a place for people to bond and create memories. A good and well-equipped kitchen will undoubtedly add value to your listing.
How did the Green Sky Lodge get it right?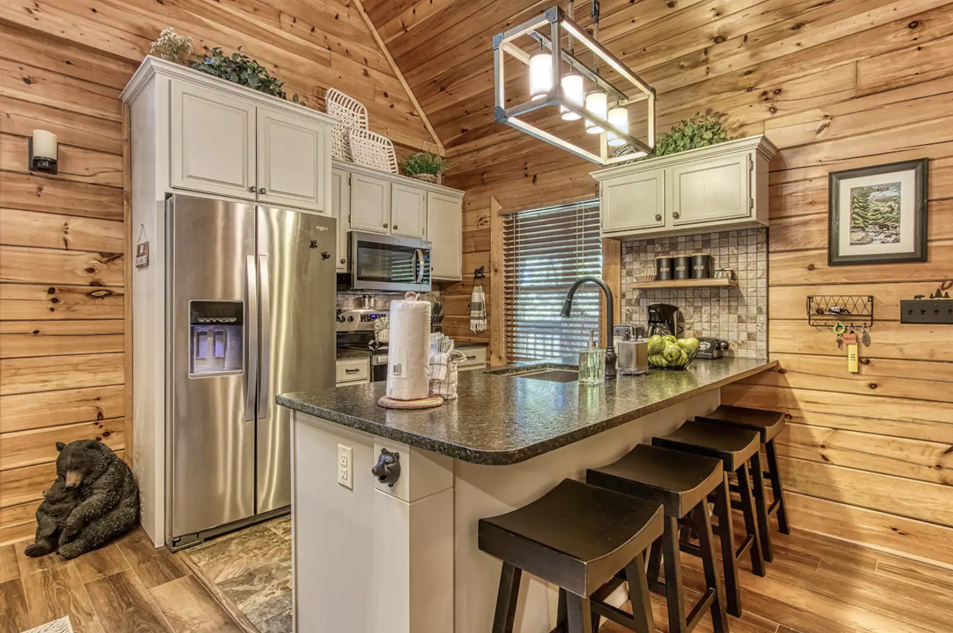 The Green Sky Lodge bets on updated hardware to offer a better kitchen to its guests. It replaced the old cabinet doors with new ones in light colors, brightening the space and giving the kitchen a sleek look. It also used open shelving to show off charming kitchen pieces. Finally, note how the hanging light changes the mood of the space.
Notes from Hali
"These are the same prefab cabinets from Home Depot that, to my knowledge, are in all of these cabins. I didn't replace any of them but instead added to them. I purchased refrigerator side panels, one matching deeper cabinet for over the fridge, a strip of crown moulding for the tops, and a little corner piece of moulding for the end of the snack bar plus an iron bear bottle opener. I moved the cabinet section that was previously over the fridge to the snack bar area to create a coffee and beverage station. I painted them a light gray to match the existing tile and contrast against the black countertop and then added hardware. The granite was scrap pieces from EMCO which we extended beyond the counter to create an overhang and additional eating area. This was a very inexpensive kitchen remodel!"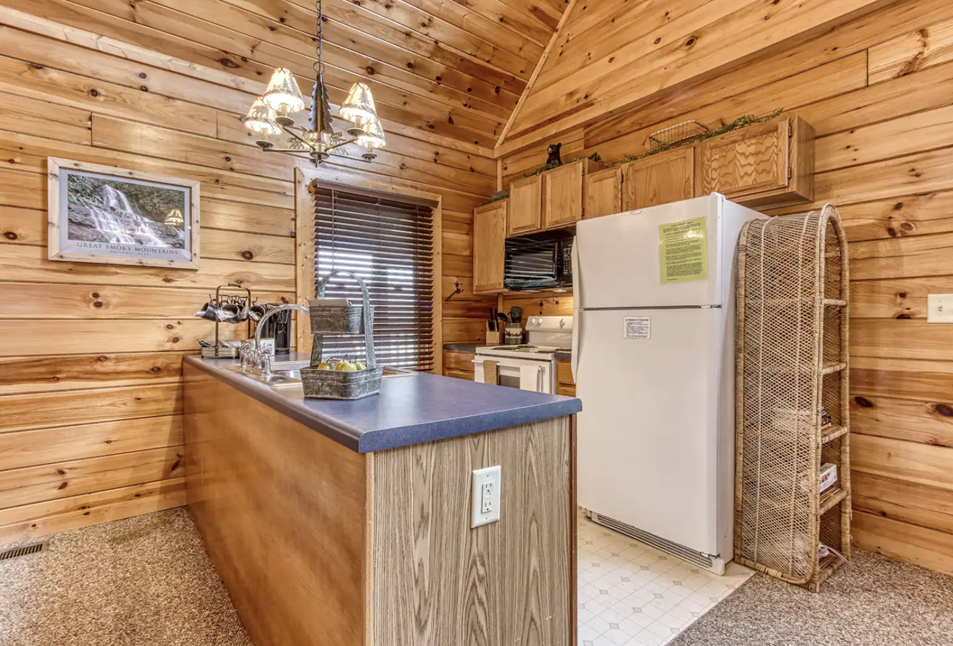 This kitchen at the Cubs Cozy Den is not gregarious enough. There's nowhere to sit. Also, the cabinetry, appliances, and lighting look oldfangled. There's no sense of it being a fancy kitchen.
Increase Your Nightly Rental Rates Betting on Good Interior Design
Remember to always think about your guest profile before making your design choices. Families traveling with children will look for comfy, safe spaces where they can enjoy the company of each other. Urbanite workationers, on the other hand, will value a comfortable working station — perhaps with a good view.
Whatever you do, have fun decorating your space. Cherish it and celebrate it. This can increase your gross revenues up to $25,000 to $30,000 more per year and make your guest experiences even more memorable.
Notes from Hali
"Generally speaking, the more your cabin feels like a real home, full of thoughtful and special touches, the more likely guests are going to respect it and treat it as such. They will also have a more memorable experience, take more pictures to share with their family and friends, and be more likely to come back again!"
The bottom line…
Take a few minutes to explore these 5 listings and make your own assessment. What does Green Sky Lodge do so well and where do the others fall short?
And realize that while the others made between $60,000 and $65,000 last year, Green Sky Lodge sat pretty at around $85,000. That should help you put the cost of decor updates in perspective!