There's a simple fact in the age of the trust economy: the one with the best online reputation wins. And if you're renting out your cabin on Airbnb or Vrbo, you should take this as a rule of thumb. 
As longtime property managers in the Pigeon Forge and Sevierville areas, we've seen how five-star reviews can increase occupancy rates and nightly fees. In sum, happy customers that write about their experience build your credibility as a cabin manager in the eyes of new customers. 
The best way to get those reviews is to deliver an exceptional stay, but there's more to it than it seems. If you're keen on getting those five golden stars, you must plant the seeds of a stellar experience long before your guests arrive at your property. 
Airbnb has a great post on how you can get more 5-star reviews. Still, we've got you covered with extra tips and the process behind becoming a super host.
1. Make Sure Your Photos are Superb & Authentic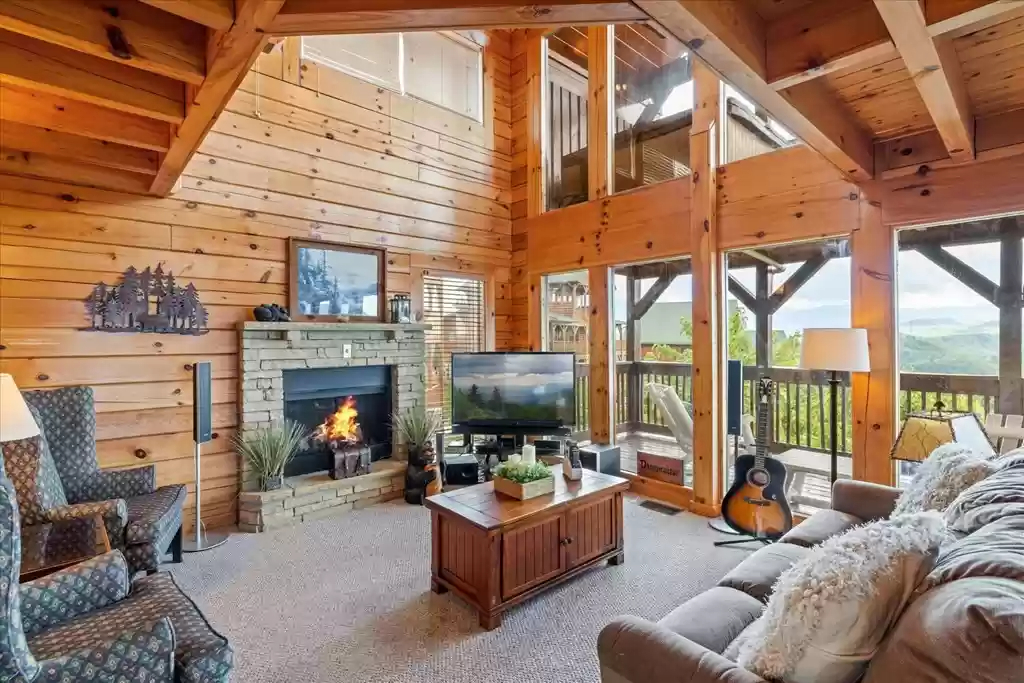 We have previously discussed how a sleek interior design can boost your nightly rates, and given you a practical guide to improving your rental property photographs. However, it's also important to remember that your photos must accurately represent your space. 
For one, consider the overall cleanness of your cabin. If things look polished and shining in the photos, guests should arrive to find the place in the same conditions. When it comes to appliances and furniture, not everything needs to be brand new, but things must be clean and well kept. 
Playing with angles, brightness, and staging to make your photos pop up is okay, but don't overdo it. If there's no view, for instance, don't pretend there's one; if the neighbors live very close by, don't give the impression that they're far away with misleading outdoor photos. Misrepresented photos will only frustrate your guests. If your guests think you fooled them in any way, they'll want to get even — which means, at the very least, a nasty review. 
The trick is to match expectations with reality as much as possible. Before you upload your pics, consider if they are unrealistic in any way; if they are, avoid using them. Always strive to give your guests what they deserve.
2. Be Specific and Honest in Your Description
Together with realistic photos, a good description makes the foundation of your listing. And, trust us: people read them. 
Don't be generic. A good listing copy is not only about highlighting your good selling points. It's also about getting pragmatic and specific. Aim to answer questions a potential guest might have while analyzing your listing so they don't need to send you a message. This helps to speed things up and boosts the chances of getting a booking because you catch them before their enthusiasm cools off.
Once more, be authentic, always mention essential details, and be honest about the flaws. If guests read about these little things in advance, they know what to expect and will plan accordingly for any inconveniences. 
A good idea is to practice what you'll write by talking to someone about your cabin. This person will probably have the same questions your guests would have while browsing, and, to boot, you'll have a dynamic description in a fun, conversational tone.
3. Set Expectations and Surpass Them
When you work well on your photos and write a thorough copy description, you're setting expectations. If your guests get to your cabin and don't find everything you promised, they will definitely be disappointed. 
We, for instance, always let guests know they'll get basic supplies such as specific bathroom and kitchen amenities in advance in the listing copy or in a message we send them after they make the booking. To be safe, before your guests arrive, you should always review what you've listed and double-check if everything is available in the cabin. Remember: that's the bare minimum your guest expects to find; if one item is missing, it can be a real nuisance. 
It's perfectly fine if they need to take care of some chores themselves, like refilling propane or bringing charcoal for the grill. Just let them know this in advance so that they plan ahead and avoid unpleasant surprises. Imagine finding out there's no charcoal for the grill right when everyone's gathered for a barbecue. Not fun, right? These experiences leave a negative impression and impact those much-needed positive reviews.
Moreover, you can always surpass what you promised and charm your guests with a little extra. One difference between regular and super hosts is that the latter always try to exceed their guest's expectations — not under-promising, but over-delivering. It's a friendly practice to leave them treats like a fresh basket of local fruits, coffee grounds, or, why not, some cheese and wine.
4. Communicate Well and in the Right Sequence
Hosting is also about establishing great communication with your guests. This communication is essential for a good review. To make things easier, it can follow a sequence. 
Here's what we've been practicing after years as property managers: 
At the moment of the booking, we send them a message addressing the top ten most common questions.
About one hour later, we send a thank-you note, the booking confirmation, and a link for a guidebook on the property. 
Two days before they arrive, we send them a coupon booklet and a guide for the area.
Right before check-in time, we send them the door code. 
The day after check-in, we follow up to ensure their experience is going smoothly and they have everything they need.
 Right before check out, we send them the check-out instructions.
The night after the check-out, we send them another thank-you note.
It might seem like a lot, but we know guests appreciate active and caring hosts. 
Nothing is perfect; things break and issues arise. Even though guests are not in a hotel, it's comforting to know someone is there to help them. So, always remind your guests they can get in touch with you. And this leads us to another important point…
Bonus Tip: Time Matters
Good timing in replying to messages is also essential for good communication, and it's necessary to get positive reviews. Roughly 25% of our reviews mention the ease of communicating with us and how fast we were at helping. 
That's because we strive for a fast response, under five minutes — 24h a day, seven days a week, including weekends and holidays. Being an excellent host sometimes means dropping what you're doing to deliver that five-star experience to your guest.
5. ASK for Positive Reviews Directly
That's right. You can ask your guests to leave a review. Very often, even when they're happy with their experience in your place, they forget to leave one (hey, people are busy!), so it's up to you to remind them to do so. 
There are different ways to go about it. One of them is giving hints you're expecting a review. For instance, we like to mention a "five-star stay" in our automatic messages and to include a reference in the fridge flier. We also send last messages thanking them for leaving the cabin organized, mentioning that we'll leave them a great review, and showing appreciation for the review they'll leave us. 
It reads something like this: 
Thanks for leaving the cabin in great shape. I will leave you a great review. I'd love it if you took a moment to leave me a great review as well — that's the best trust builder, and it'd really be appreciated!
Often, leaving your guest a positive review will lead them to write a review in return. Doing so shortly after they checked out helps them write theirs with your space still fresh in their minds.
Secrets to Getting 5-Star Reviews with Your Airbnb & Vrbo Cabin
There are many ways you make your cabin to earn more than the competition, but having stellar reviews and those five golden stars decorating your page is the best one. And this comes, above all, when you provide an exceptional stay to your guests. Hosting is an art form, so use your creativity to win people's hearts — this will surely get you more future guests.