Today, every industry with an online presence suffers from the same problem: an overcrowded marketplace. This is true for all property managers and property owners in our market of Pigeon Forge and Gatlinburg and it's true with Airbnb and vrbo owners worldwide.
There are fewer and fewer barriers to entry, and promoting a new rental property has become easier than ever. This can be good for new property managers/owners, but it also creates a crowded space with so much competition that it's hard to stand out. (In case you missed it, I already covered how top interior design for airbnb/vrbo leads to more revenues)
That means you're losing bookings and revenues.
There's one solution to this problem: you need to stand out and rise above the noise. That's the only way you can beat the competition.
As property managers in the Pigeon Forge and Gatlinburg area, we've seen a multitude of cabins and guests. We're pros (if we can say so ourselves!) and have noticed patterns that you can take advantage of. Most of our cabins in the region have a similar design. Hence, based on the number of bedrooms, we can estimate their annual revenue easily enough.
Here's an idea of how it works:
One-bedroom cabins: $60k
Two-bedroom cabins: $75-80k
Three-bedroom cabins: $90-95k
Four-bedroom cabins: $105-110k
Besides the number of bedrooms, many other factors play a part, such as view , design, the amenities they offer, and the location of the property — the latter is actually a big deal. Still, for the most part, those factors only alter the average gross income from 5 to 10%.
Are you wondering how you can increase your average much more and be amongst the top-performing cabins?
Break the pattern and make people notice you right away. That's where the power lies.
But how do you make your place stand out when countless cabins are flooding the market? We'll show you how. Let's dig into our top five of our higher performers to understand what they're getting right.
5. Bears on Beach Front: 3 bedrooms, 30% more in revenue

This cabin has a charming vintage design, and we know this usually means a lower performance compared to more modern and sleek-looking cabins. The owners, however, compensated for it and made their rental stand out by making the most of its structure and outdoor areas.
First, they converted what would have otherwise been a boring garage into something more useful: a fun game room that opens wide into the fire pit area. It not only adds living space, but also increases the value of the rental. Other good ideas for a garage trick-up include a library, kids' play room, artist studio, and, why not, a movie theater.
Speaking of movie theaters, Bears on Beach Front has one too — a lovely open-air cinema that makes for a special night watching movies on a big screen. Next to it, they added an outdoor fire pit, another outstanding feature that can even double as a grill to roast marshmallows or hot dogs.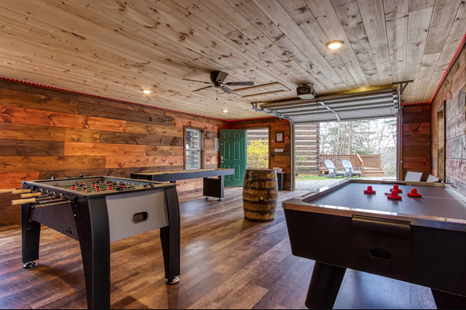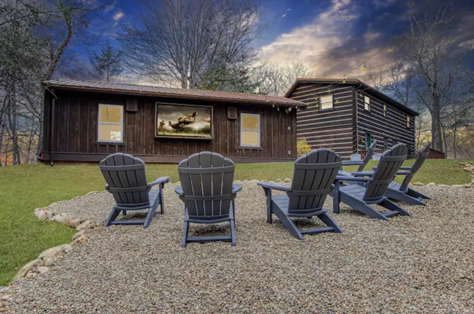 Whether you have a big garden, a garage, or just a little balcony, there's plenty you can do to make your outdoor areas stand out and offer your guests a nice extra space for some fun.
4. Serenity: 4 bedrooms, 30% more in revenue


Due to a poor location out of the city, Serenity was performing below the average revenue rate for a similar cabin with three bedrooms. However, clever use of space once more boosted bookings and drove the nightly rate up by 30%.
Any kid would be hyped up by its basement, a sensational hybrid of bedroom and game room, including a cluster of well-designed bunk beds. Entertainment-wise, although nice touches, air hockey and foosball tables are not that rare in similar cabins. However, a climbing/bouldering wall?! That's awesome!
We know what you're thinking: how will the adults get quiet time with so much action going on downstairs? That's another thing about this place. The design is clever and considers the whole family: the upstairs area for the adults to relax all day, and the downstairs for the kids to make their mess as much as they want.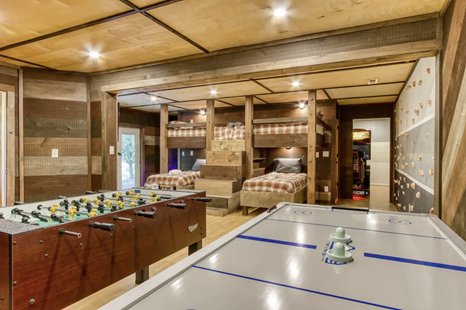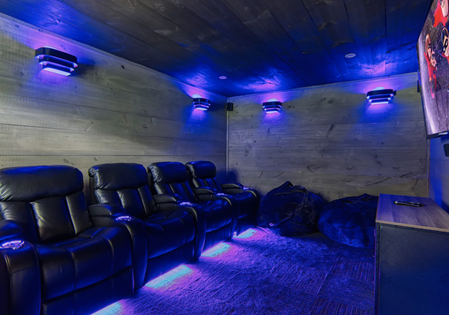 The contrast in purpose and the decor in this cabin catches the eye, as do the photos of the cinema room with LED purple spotlights. Way to go if you want to stand out from the competition.
3. Birchwood Lodge: 3 bedrooms, 50% more in revenue

The Birchwood Lodge gets everything right. It seamlessly integrates interior and exterior with large glass panels and windows that draw nature in. It does so even in the bathroom, enhancing the spa-like experience with a superb bathtub and view. The outdoor areas are also remarkable, with several balconies that welcome you to slow down and enjoy the scenery.
The photography work is outstanding, using daylight to show airiness, and angles to show dimensions and space. All colors pop naturally and make the album even more eye-catching.
But there's something else, the one photo that matters, the hero image.
The Birchwood Lodge made the most of its balcony overlooking the stunning mountain greenery by placing that one "design" piece in it and using it as a hero image. With the sight of a hammock rattan chair facing the view, the viewer can almost feel the freshness in the air and the gentleness of the breeze. It's a genius way to tap into the emotions of your potential guests and make them imagine themselves in your space.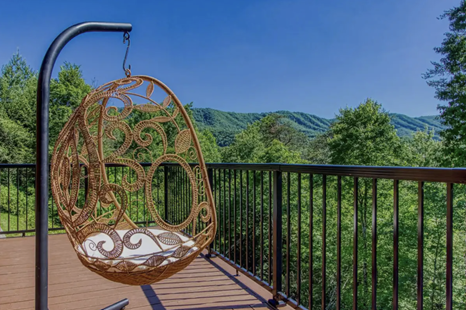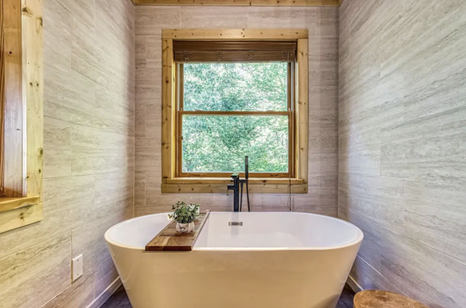 2. Cub Mountain View: 2 bedrooms, 70% more in revenues.

Making your place emerge in a sea of similar cabins isn't always about one room, one specific design piece, or one feature. Sometimes it's about executing all the correct basic notions with excellence to create an outstanding ambiance that exudes the right aura.
Cub Mountain View does just this. Its decor relies on higher-end choices to be distinctive in a market where everybody else is choosing low or mid-market. This cabin uses the power of details to create a beautiful space for travelers to stay in. The results don't lie: the Cub Mountain View stands roughly 30% over baseline in its two-bedroom category.
There's more; they also bet on an alluring title that reveals what's unique about it, alluding to the magnificent views surrounding the lodge, and on the power of professionally taken photographs to impress and stress the prime points such as light, space, and quality.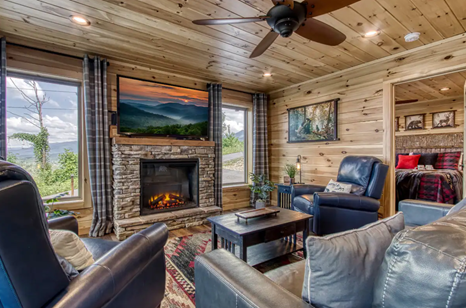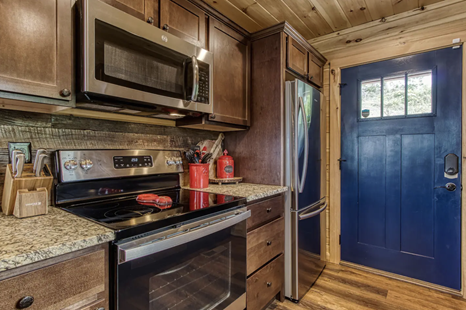 This cabin bets on the power of details and distinctively high-end furniture and appliances, including a kitchen with updated hardware, to rise above and beyond your competition.
Bonus: a view is not enough. Bet on the power of design.
The owners of Birchwood Lodge and Cub Mountain View know something important: having a view is great, but it's not enough. Take, for instance, the cabin below. It has a fantastic view, but it only does slightly better than other cabins in its category, the four-bedroom type.

Even though the interiors are lovely, they are not outstanding. There's an X factor missing. There are always ways you can improve the design of your cabin. For some inspiration, check our Top Design Tips to Increase Your Nightly Rental Rates.
1. Splashside Retreat: 4 bedrooms, 100% more in revenues.

There's no wonder why the Splashside Retreat comes first on our list, scoring 100% over the average nightly rate for its four-bedroom category. It simply ticks all the boxes.
Before, the cabin was rather basic and didn't have on an ideal location or an outstanding view. Still, a thoughtful renovation and reassessment of space fixed those problems and put it on the map of cabins with exceptional performances.
Exceptional is really the keyword. The owners of the Splashside Retreat weren't afraid of taking a design risk or two to make the place special. First, they converted the oversized garage into a mind-blowing game center.
They even added an extra touch for a quirky, "Instagram-worthy" picture that does wonders in the album: a beautiful artificial green wall with foliage and neon light signage that is eye-catching and fun.
The outdoor areas are action-filled, too. Besides the pool, they include a zip line, a popular attraction for adventure lovers of all ages.
The space design is family-friendly, considering its audience in terms of age groups. Younger kids and toddlers also have their unique areas. Not just one, but two: in the game center and right beside the living room where they can play close to the adults as they do their thing.
Naturally, the pool plays a role in boosting the rates. Still, it wouldn't be enough to double it if it weren't for all these carefully thought-out amenities and details.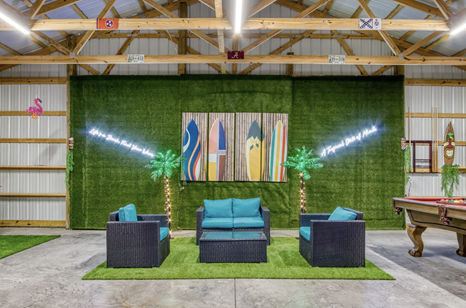 The Splashside Retreat is not afraid of taking design risks and betting on quirky additions to stand out from the crowd. They not only have a game room but a proper entertainment center, two toddler areas, and a zip line for the extra adventurous.
Last But not Least: Your Photos Matter

Quality and an original touch are essential not only when designing your cabin, but they are not all. What's the first thing people notice when looking for a rental online?
Photos.
In our crowded online marketplace, the bottom line is that you need your hero image and the other four shots that really matter to be highly engaging, with the power of grasping viewers' attention in a split second. For more insights, read our improve your airbnb pictures and make more money.
When you put your hands to work, try to appreciate the uniqueness of your cabin and enjoy the ride as you reinvent it. Don't be afraid of taking occasional risks to create something different — being the odd one out is actually pretty cool.