As owners in the Pigeon Forge and Gatlinburg area, we know how important it is to keep a close eye on industry trends. Using data and following trends enables us property owners to attract more bookings or simply provide an unforgettable experience for our guests.
There are several platforms offering global insights into pricing trends, demand patterns, and other factors that can help you make informed decisions. The best ones you'll want to be familiar with are AirDNA, Beyond Pricing, Hostfully, and AllTheRooms Analytics. According to market research, short-term rentals are valued at approximately $115 billion in 2020 and are expected to reach $161 billion by 2025, with an annual growth of 6.9%.

However, we're actually in the cabin rental segment of the industry. And localized to the Pigeon Forge/Gatlinburg/Sevierville market as well. It's easy to get lost and overwhelmed by the piles of insights and resources for the industry at large and forget we actually operate in a niche — some things aren't as relevant for cabin owners in the Smoky Mountains and others don't apply to our cabin segment at all.

Take Airbnb, for instance. They say that long stays of 30 days or more are their fastest-growing segment because of the work-from-home and remote work trends that arose from the pandemic.
Our Smokies market is more like Vegas, with a much shorter average cabin stay – just 3.5 days. Shorter stays still allow travelers to explore the destination, engage in activities, and enjoy their vacation but don't chew up that valuable vacation time.
Likewise, AirBNB CEO Brian Chesky announced he's going back to the company's roots in the AirBed days and focusing on private room rentals. As you can imagine, this doesn't apply at all to our Smoky Mountain cabins.
Vacation Rental Industry Trends That (Really) Matter to Us In The Smokies
Let's do something different and quickly dive into some recent stats and trends that really matter to those of us running cabins in the Smoky Mountains:
Size matters. Industry research shows that travelers who choose vacation rentals over hotels do so because they offer more space. While the average hotel room is only about 325 square feet, vacation rentals often span over 1,300 square feet. This shows that your guests are yearning for ample room to unwind and stretch out.

Guests want to wear their chef hats. Access to a kitchen is another key reason travelers choose vacation rentals. A recent study found that 64% of people who rent for a short term consider the kitchen to be very important. They want a place that allows them to cook meals and dine with friends and family. Interestingly, privacy was the next most important factor, with 49% of respondents citing a desire for their own space.

What could be better than a getaway? Rural and nature destinations are becoming increasingly popular, while demand for big-city travel in America shows signs of slowing down. According to Vrbo, the number of people searching for cabin rentals has increased by 25% year-over-year, with 61% of families showing a preference for "outdoorsy destinations." That's our niche!

The new crowds. In the past, travelers would visit destinations with fewer places competing for their vacation dollars. Today, they have more discerning tastes and expect a higher level of service from their rental experience. Hence, it's essential to understand the needs and preferences of modern travelers — and we're not talking just about the millennials here, but also the Gen Z, who are felt to be more financially conservative and environmentally conscious than other generations.

Where is the hottest location in the Smokies? While development is definitely trending north of Sevierville, revenues haven't picked up to match. There's a new theme park, a possible casino, and more going on up there, which is promising. Still, any revenue increase will take some time to show. We manage many on the north side of town and depending on location will earn you around 20% less than close to town.
Proximity to downtown Pigeon Forge and Severiville (or in between the two) is still the top location for a rental. All else being equal, go for proximity and bedroom count over neighborhood privacy and interior space.
In The Smokies, Revenues Are Returning to Normal and Competition is High
Overall, though, revenues in the Smokies are returning to more typical and usual levels seen prior to the post-COVID highs of 2021. An increase in competition is also bringing them down. Our cabin rental market has experienced a 50% increase in inventory over the past two years. Yes, you read that correctly!
Add to that the economic pressures on renters, and it's easy to see that you should start thinking about how you can stand out with your decor and amenities to secure bookings for your cabin.
As we all know, these two factors heavily affect your scores. Owners begin to take a financial hit at 4.6 stars, losing about 9% in revenue. It's only downhill below that, meaning you'll need to lower your price to stay competitive, which is not ideal.
At the end of the day, it comes down to factors such as photos, decor, and amenities to set your cabin apart from the roughly 16,000 others out there. Of course, there are other important factors to consider as well. But before we delve into those in more detail, let's try to understand something better…
Why Do People Rent Cabins Anyway?
Vacation cabins are especially popular among travelers looking for something unique and different and a peaceful retreat from the busy city life.
While most short-term rentals sit in urban and suburban areas, our cabin niche is mostly spread across natural environments — our rolling green Great Smoky Mountains.
At the same time, condos and regular home rentals are really competing as an alternative to hotels. As a result, the prices for these rentals are typically half of what a cabin rental runs. Cabins are more of an aspirational vacation getaway – people fantasize about them and all the fun amenities like hot tubs and pool tables.
Need a clear picture of what we're saying? Think of over-water bungalows in Bora Bora. Cabins work much in the same way in the sense that they're highly desirable, something beyond a typical getaway, and should be associated with luxury and adventure.
Whether it's a tiny log cabin or a grand lodge that sleeps twenty people, what the modern cabin vacationer is looking for is a unique experience. That's why cabins with amazing features are the ones that stand out.
What is "Glamping" And How it Affects Us?
The almost obvious realization above overlaps with the concept of "glamping," which fuses camping with glamour, a recent trend where people are looking for a more luxurious — and Instagram-worthy — nature experience.
Glamping is not all about camping outside, though. It also affects our cabin properties and the way we do things. Cabins that offer a glamping vibe and amenities like comfortable beds, high-end linens, and top-notch facilities can definitely generate as good a return as standard cabin rentals.
Set Your Cabin up for Success With a Modern, Instagram-Worthy Decor
While scenic mountain views and lush green foliage are certainly appealing, in an age where glamping is an actual word, your interior decor is an important selling point.
Cabin vacationers crave the cozy ambiance that cabins are famous for, so it's always a good idea to keep the interiors warm and inviting. That said, many of the cabins in our area date from the 1980s and 1990s and retain some rather outdated looks, including builder-grade cabinets, shabby carpets, and old-fashioned wallpaper. As we all know, introducing modern upgrades into our rental cabins can enhance the overall guest experience and make the accommodations more attractive to potential renters.
Remember: most people seek something out of the ordinary. That's why a modern, airy mountain cabin with all the comforts of a proper home is the way to go. Such cabins tend to feature a blend of rustic and modern decor, a full-fledged kitchen, spa-like amenities, and fun extras like a hot tub, a movie room, a fire pit, and a pool table.
When designing a cabin, there are several key factors to consider. Here are some of them:
Composition & Furniture
To create a sleek space, opt for contemporary design concepts and elements. Choose furniture that is appropriately sized for the dimensions of your room and that displays fewer adornments or frills. Selecting furniture that aligns with a particular style can create a cohesive and pleasing experience for our guests.
Sofas and armchairs with thin legs and textured, block-colored, or minimally patterned fabrics add a sense of lightness to the space.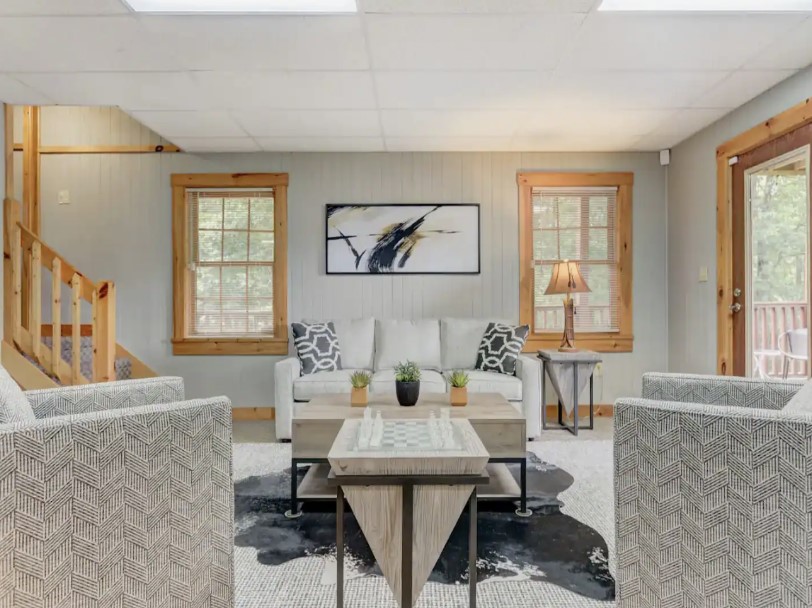 Tell a Story
Vintage and intricate pieces do add character and charm to any living space. You can always mix and match these items with the history or feel of our lovely Smokies. How? By selecting pieces and art made by local artisans that depict local nature and culture. This is a great way to tell a story with your space and evoke an emotional response from your guests. Why not add a stylized portrait of Dolly Parton or some autographs of some country crooners like Willie Nelson?!
Use Natural & Artificial Light Wisely
Achieving a balance between natural and artificial lighting is key to enhancing the look and feel of your cabin. While natural light is great, it can sometimes be too much. In that case, curtains and blinds can help to control the light and provide privacy. Moreover, try to provide the entire cabin with indirect lighting with table and floor lamps. Here's an extra tip: bet on sculptural light pieces to improve your decor.
Bring Greenery In
Most people find it refreshing to live in places with beautiful pockets of greenery. Indoor plants are an excellent way to achieve this. Think plants are too much work? You can also use faux plants (in small amounts) that look just like the real thing. Plastic foliage can look very realistic and is relatively easy to clean.
It's Also About the Outdoors
Why bother renting a cabin if you're just going to stay indoors all day? People want to head outside, so take advantage of your balcony, rooftop, terrace, or porch to add value to your rental. Your outdoor spaces should reflect the same sense of interior style, with the right composition of furniture, plants, and accessories to add character and functionality. In other words, unlike a big city rental, your backyard matters!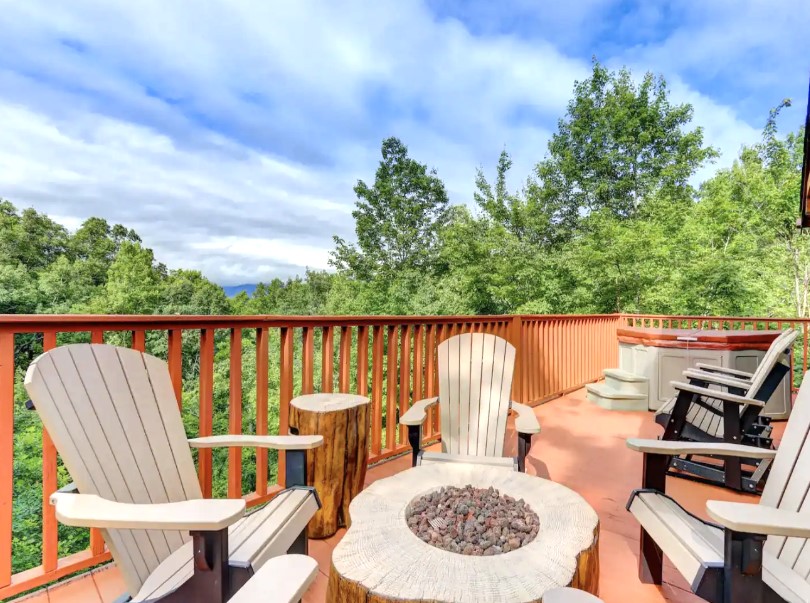 Bet In Impressive Amenities & Keep People Coming Back
With our niche overcrowded as it is, you must make sure you stand out from the competition and decor alone won't do. That's why you should also aim to create the ultimate retreat with extra amenities that go above and beyond to create that "wow" factor.
Investing in good amenities is an excellent way of getting more bookings and increasing your revenues. We're not just talking about adding a hot tub here; that's already a given. To make things easier, we like to consider the amenities a cabin should have according to its size.
Here's how it goes:
For one-bedroom places, hot tubs are the minimum required.

Those with two or three bedrooms should have at least one entertainment feature, like a multicade or a pool table being the most popular choices.

Three and four-bedroom cabins should have two or three of those entertainment features. We usually see air hockey, foosball, and occasionally shuffleboards.

Finally, things get fun with the larger cabins with four or more bedrooms. Many will have a media room, a game room, or both.
As you get bigger, add more amenities… That's the nature of the beast.
Speaking of Game Rooms…
Why not keep the kids busy with two game rooms instead of one? What about an indoor pool? A few full-sized arcade games?
Other ideas of really cool amenities include zip lines, a pop-a-shot basketball game, a telescope for stargazing, and fire pits with lots of chairs around them (for marshmallows on sticks – who doesn't love those, hey?). Think of that aspirational, instagrammable aspect of the experience you create, and let your imagination run wild!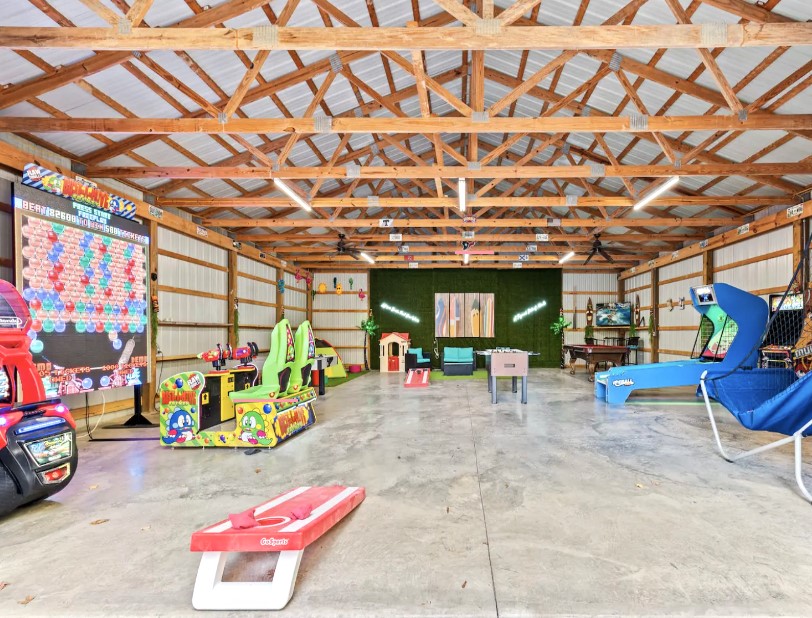 Boost Guest Experience with Tech
By the way, it's not just the decor that needs updating. Some cabins (and cabin owners for that matter) might seem old-fashioned because of the lack of technology in the overall experience. Younger generations have a greater affinity and desire for technology compared to older generations. As we all know, our travelers today are surrounded by modern technology which enhances productivity and efficiency in various aspects of life.
Regarding entertainment, for instance, most guests expect cable channels as an amenity, but we say you should consider getting a Smart TV or a Roku player instead. Both are more convenient and affordable alternatives allowing your guests to log into their own accounts. For the cabins we manage, we suggest owners save money and not even pay for cable TV because guests bring their own accounts from home already.
For an even more polished experience, consider offering EV chargers (remember GenZers are eco-friendly?) and implementing contactless check-in with smart locks (that's one thing that stayed after COVID).
Also, consider creating digital guidebooks about your cabin and area. Include intuitive instructions on how to use specific appliances and offer coupons and tips on all those hidden gems only you know about. Here's another idea for guidebooks: consider adding some for the best hiking trails near your place.
Tech is also important for communication. From beginning to end in the guest experience, effective communication is crucial for the success of your cabin rental business. Always strive to respond within five minutes regardless of the time. This will not only please your guests but also boost your rankings, leading to more bookings.
It also helps to save time by anticipating the questions guests may have and posting the answers ahead on guidebooks or in your listing. Saving the text for common answers in a notepad and tweaking them as necessary can also be very helpful. Just be careful not to come across as a chatbot!
Know Your Niche, Spruce Up Your Cabin & Make More Money
Yep. Competition is fierce in the Smokies. Still, standing out and providing an excellent service it's a science — not a magic trick. By embracing the latest design and technology, you can enhance your property appeal making a more comfortable, convenient, and memorable experience. Keep an eye on local trends, adapt where possible, and follow the tips above to stay booked and make more money with your cabin.