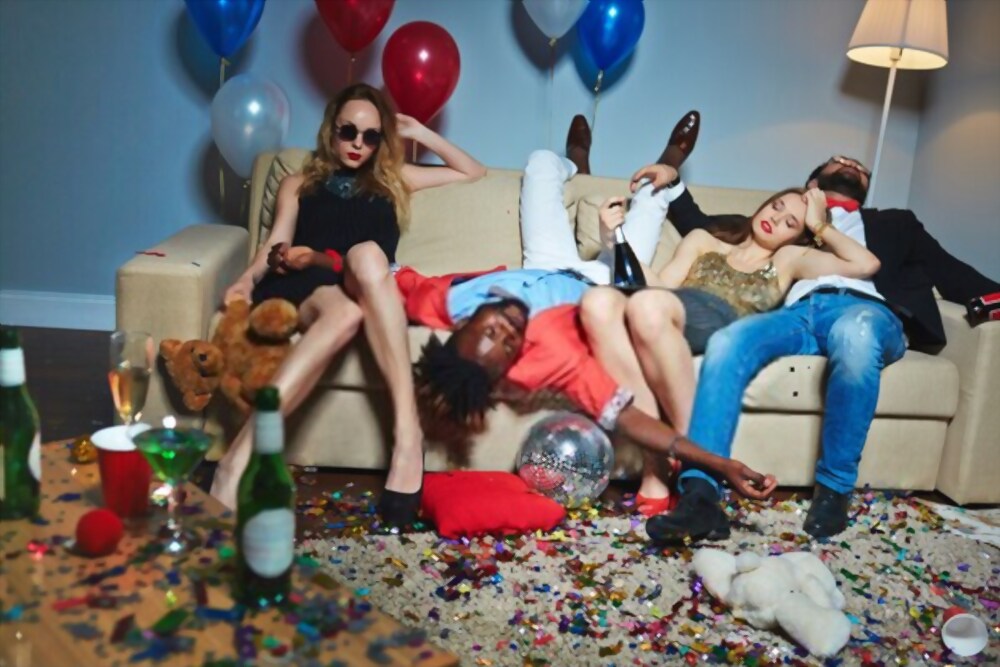 Let's face it… You're not going to feel at ease with every guest that books your property. Each guest poses a certain degree of risk as it pertains to property damage or personal discomfort. We all should consciously evaluate every new guest to determine the likelihood of being an issue and address the booking accordingly.
The rentals I own and property manage are all cabins located in the Pigeon Forge/Gatlinburg area, and the guests there present their own unique challenges.
For example, parties are generally a no-no for me, so if a guest books a property for 10 individuals, with their ages ranging from 18 to 25 and are local, I'd suspect that they intend to host a party. Of course this increases the likelihood of property damage, so I cancel the reservation. Better safe than sorry!
As an Airbnb host who is naturally concerned about his property, you'll probably do more than a few of these cancellations per year. It'll be even more if you have more than one listing.
The Penalty For Cancelling
Airbnb lets you cancel reservations, so you can take advantage of this feature to reject a booking, but it has its limitations including a yearly limit of 3 free cancels for Superhosts. After you cross the yearly limit, you'll be penalized for each cancellation, unless the cancellation was made due to extenuating circumstances.
The 'cancel without penalty' option you want to use is 'I don't feel comfortable with this guest.' The fewer details you give when you do this, the better. (You can do 3 of these cancels a year for free, but you'll lose Superhost status before you hit that limit.)
This option is always available if guests 'instant books' your home but you can't use this option if you manually approve the stay. In other words, if a guest has 0 reviews, they send in a question, and I answer and 'pre-approve' their stay, they can't be cancelled using this method.
After you've cancelled three times, you'll be subjected to a hefty penalty (around $100), and multiple cancellations WILL impact your listings' visibility in search results, which means less bookings for you.
I've discovered a better way to cancel bookings and have been using it for my Smoky Mountain property management clients with success. Free cancellations, no penalties, no headaches.
A Little Backstory…
Earlier this year, I had a guest book a 1 bedroom cabin but didn't answer my house rule request to "please send a guest list and the ages of all guests". Since they were local, I suspected a party and wanted to cancel since he was violating my house rules by not providing that info.
When I called to try and cancel penalty-free, Airbnb agreed he was in violation but told me that I had to give him until the moment of check in to provide that list. If I had to cancel, well, he was already in the cabin and I'd have no real way to get him out. Turns out he did have a party but thankfully didn't trash the place too bad.
Anyway, after jerking with Airbnb support for a couple of hours, I kept asking about their policies and asking 'what if' scenarios to get a better handle on how the system works. They never would give me a straight answer, but I had a hunch that is now my secret recipe…
The Underground Free Cancellation Method
I made a house rule that says: "Must be 25 and up to rent. For security purposes, please upload a copy of your photo ID within 72 hours of booking or we reserve the right to cancel."
The reality is very few people remember to send a copy of their ID so this gives us the path to any penalty free cancels we may need. That said, I still send reminders to the guest to actually get a copy of their ID for two reasons: I want to verify the booking guest matches the ID (so no third party booking) and I want to know who is staying in the cabin in case I need to pursue damages later.
If/when you want to cancel a stay penalty-free, just follow these steps:
Call into Airbnb support
Let the first human you talk to know you want to cancel due to a "house rules violation". They'll bump you up to Tier 3 support.
Tier 3 support will want to contact the guest to get a copy of their ID. Decline that request.
Tell them "I'm not comfortable with this guest staying in my house but more importantly I want to cancel due to the rules violation. Please don't contact them, just cancel them."
Done!
I've used this method many times with no trouble at all. Parties, local stays, and ultra-high maintenance guests have been avoided using this tactic and everyone is happy.
Note: Airbnb changed their Terms of Service earlier this year on IDs; they now discourage us from collecting them. An exception carved out if the ID is required due to insurance/city/HOA/jurisdictional requirements. Use that to your advantage.
Bonus Tip
Aside from my method above, there are other tactics you can use. First off, never cancel through your account. Always cancel by calling Airbnb and asking for a one-time exception or giving them your "sob" story. That can help you navigate a problem booking without using a free cancel or if they did happen to send an ID.
Another option is to simply request that the guest cancel and let them know you'll provide a full refund if the site doesn't offer it
Good luck out there!