Your rental cabin is like your home — you put a lot of care and effort into it and if a guest treats it unfairly it's natural to get angry.
As cabin managers in Pigeon Forge and Gatlinburg, we know damages are a headache for every host. They can be very costly and even lead to loss of income if repairs take too long.
It's a good thing then that hosts can make damage claims in this industry and OTAs usually have their backs, right?
Still, there's a lot of confusion around damage claims, such as how to file one and how to prove your point.
This blog will provide you with valuable insights into damage claims. In the spirit of transparency, we're sharing our own Avada data for 20k+ bookings in the Great Smoky Mountains to show you that damage claims are not as significant a concern as hosts often assume.
When guests book a cabin, they are required to follow certain rules and guidelines set by the host, which include treating the property with care and respect.
If the host discovers that their Smoky Mountain property has been damaged or items have been stolen or lost during the guest's stay, they can start a damage claim process. This usually happens through the OTA's resolution center, an online space where guests and hosts can discuss the issue. 
It's not rare for guests to inform hosts immediately when something breaks. Some of them may even offer to pay for the damage. However, many guests may try to hide the fact that they broke something, or, if they do admit to it, it usually happens that the amount they offer to pay is insufficient to cover the damage.
If both parties fail to reach an agreement, the OTAs themselves can serve as mediators. If their decision is favorable toward the host, they will collect the compensation. Usually, that means transferring the amount of the security deposit to the host, if one was set in advance, that is.
⚠️  Heads up: hosts who charge a security deposit on OTAs have a better chance of being compensated for damages than hosts who don't.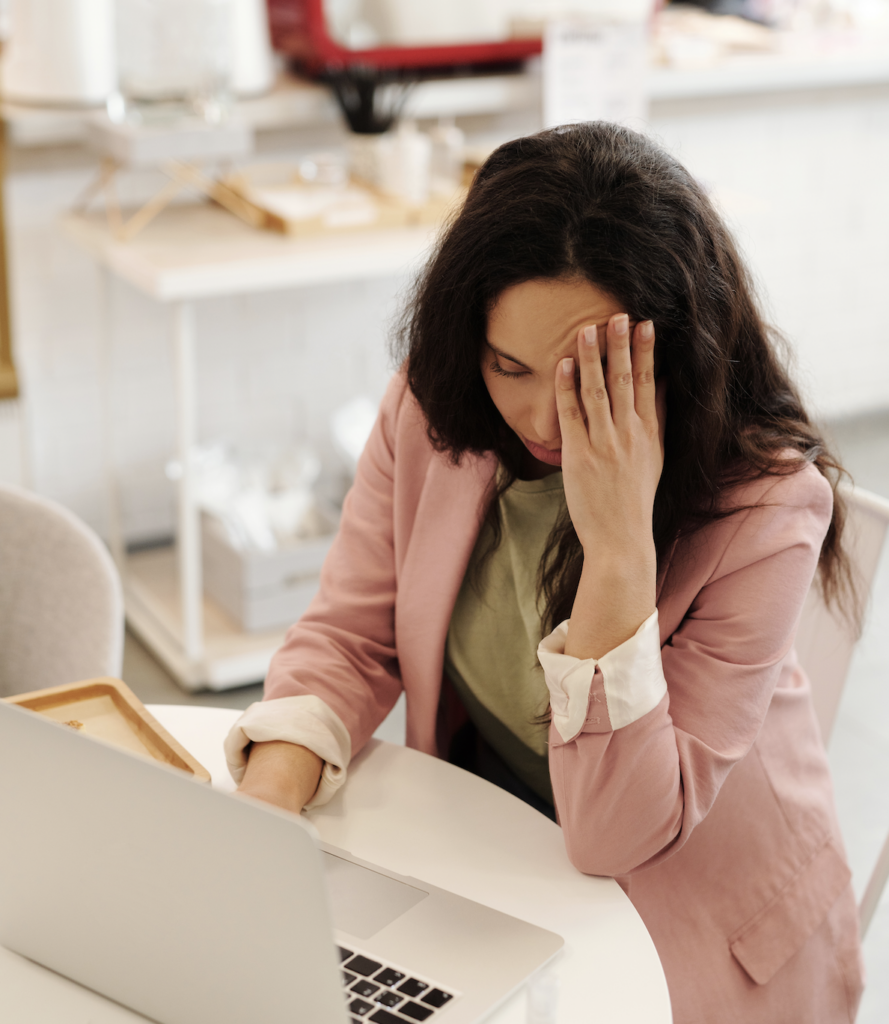 What have we found about damage claims with 20,000+ bookings in Pigeon Forge and Gatlinburg?
At Avada, we're an open book (in this case, open software!). Below you can see our damage claims data for Airbnb and Vrbo for over 20,000 bookings.

We believe our experience can help you get an understanding of what goes down in the market when you have a sizable operation.

Here are the key findings:
Damage Claims per Platform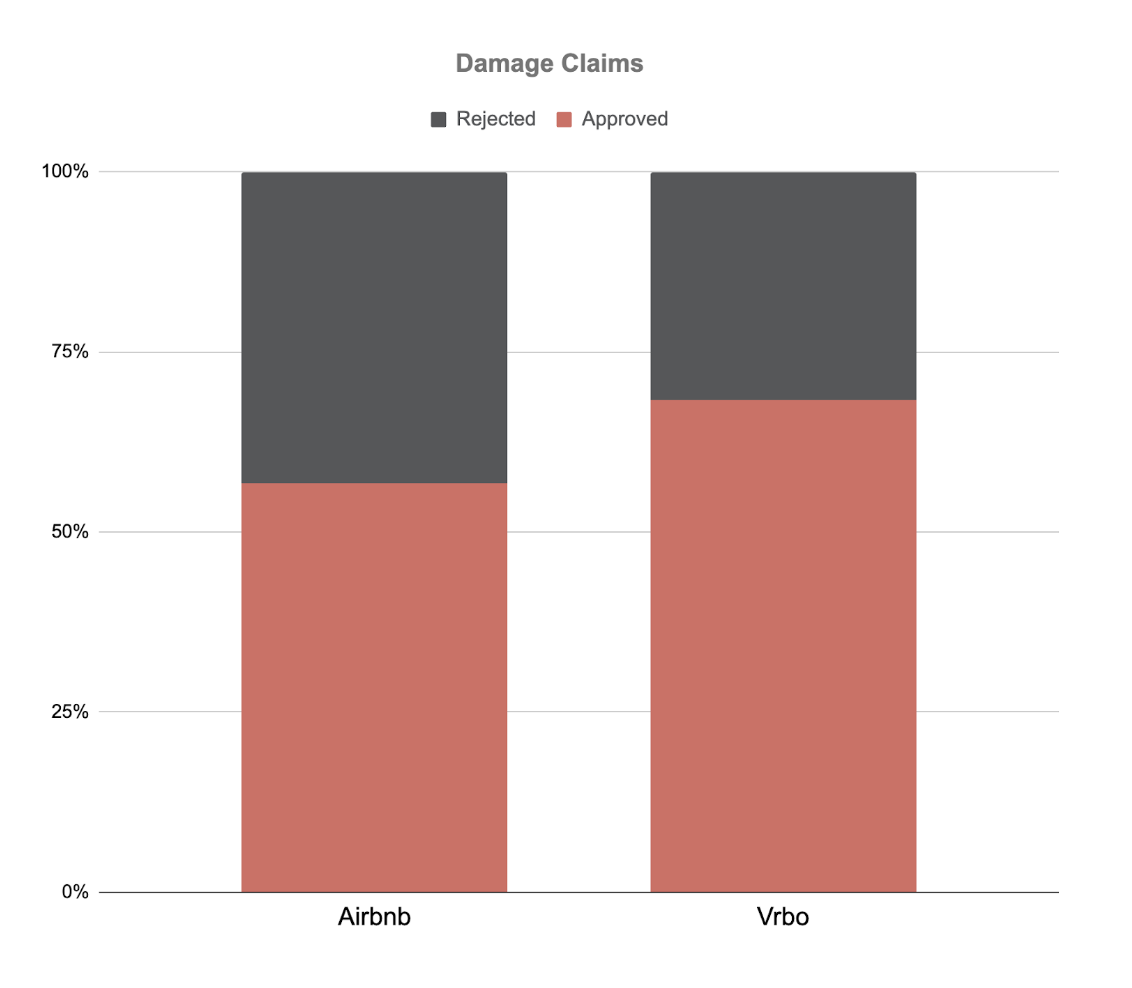 We're able to get around 60 to 70% of the damage amounts we claim approved, more specifically 68.29% with Vrbo and 56.75% with Airbnb.

It's also interesting to note the total difference between the platforms. We win 11.52% more damage claims on Vrbo than on Airbnb.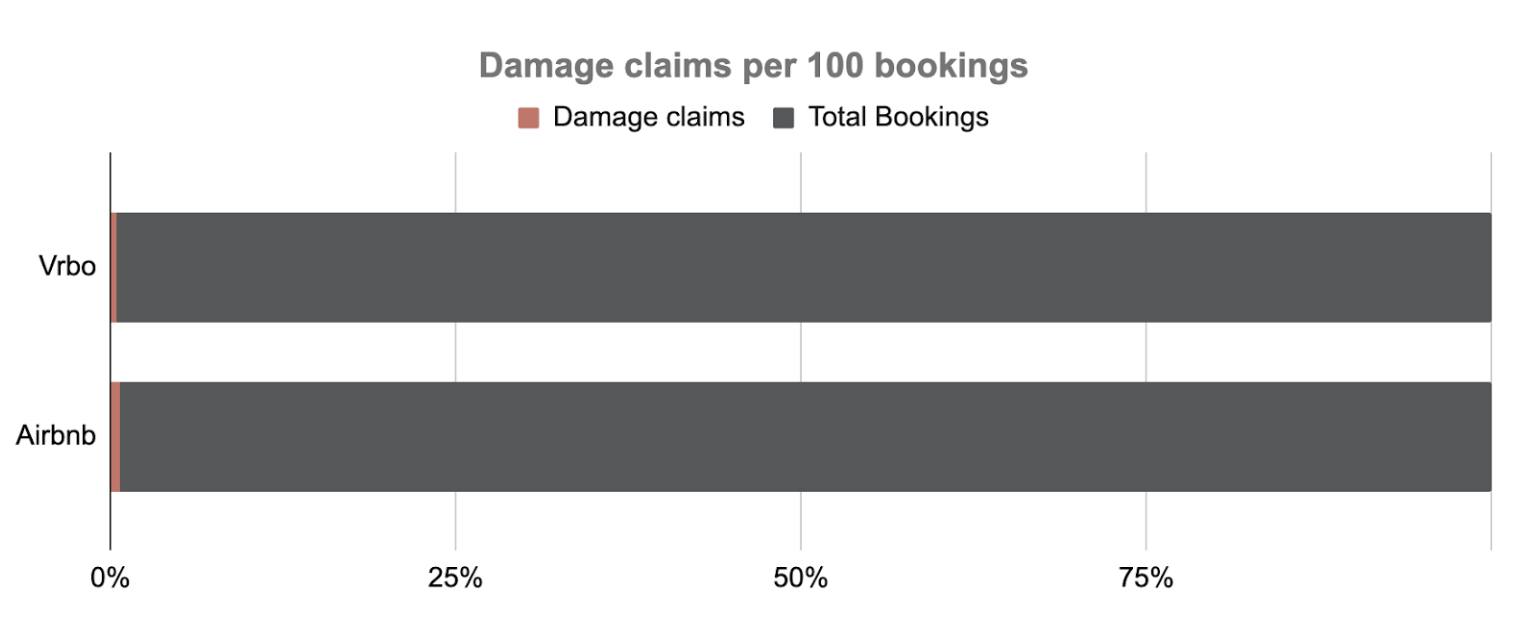 As you can clearly see from the chart above, damage claims are a minor problem.
We've had that need only in 0.43% of all bookings with Vrbo and 0.71% with Airbnb — that's why you can hardly even see the occurrences on the chart!

If we take Airbnb's 0.71% as a benchmark for the average owner with 100 bookings in a year, that represents less than one claim a year.

Put it simply: damage claims are not the norm, but they happen, so you need to know how to handle them.

Damage Claims vs. Length of Stay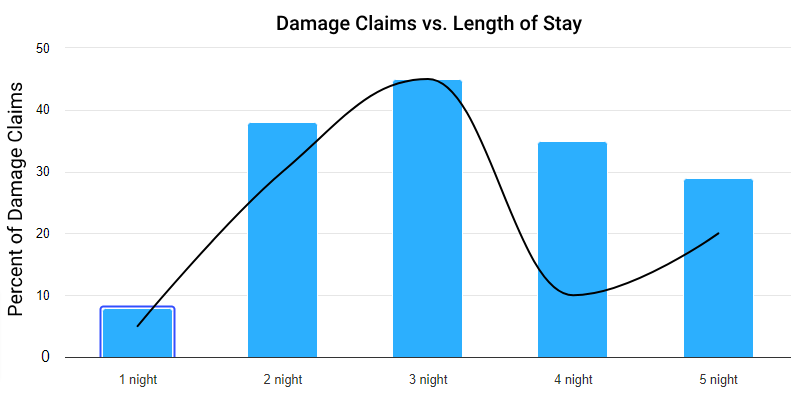 Avada's average booking length is 3 nights, so it makes sense that our damage claims curve goes up right there. Still, statistically, we can see that short stays of one or two nights show the same amount or more damage claims than longer stays of 7+ nights even if longer stays provide more opportunities for incidents. Hosts who usually frown upon short stays will probably find this interesting.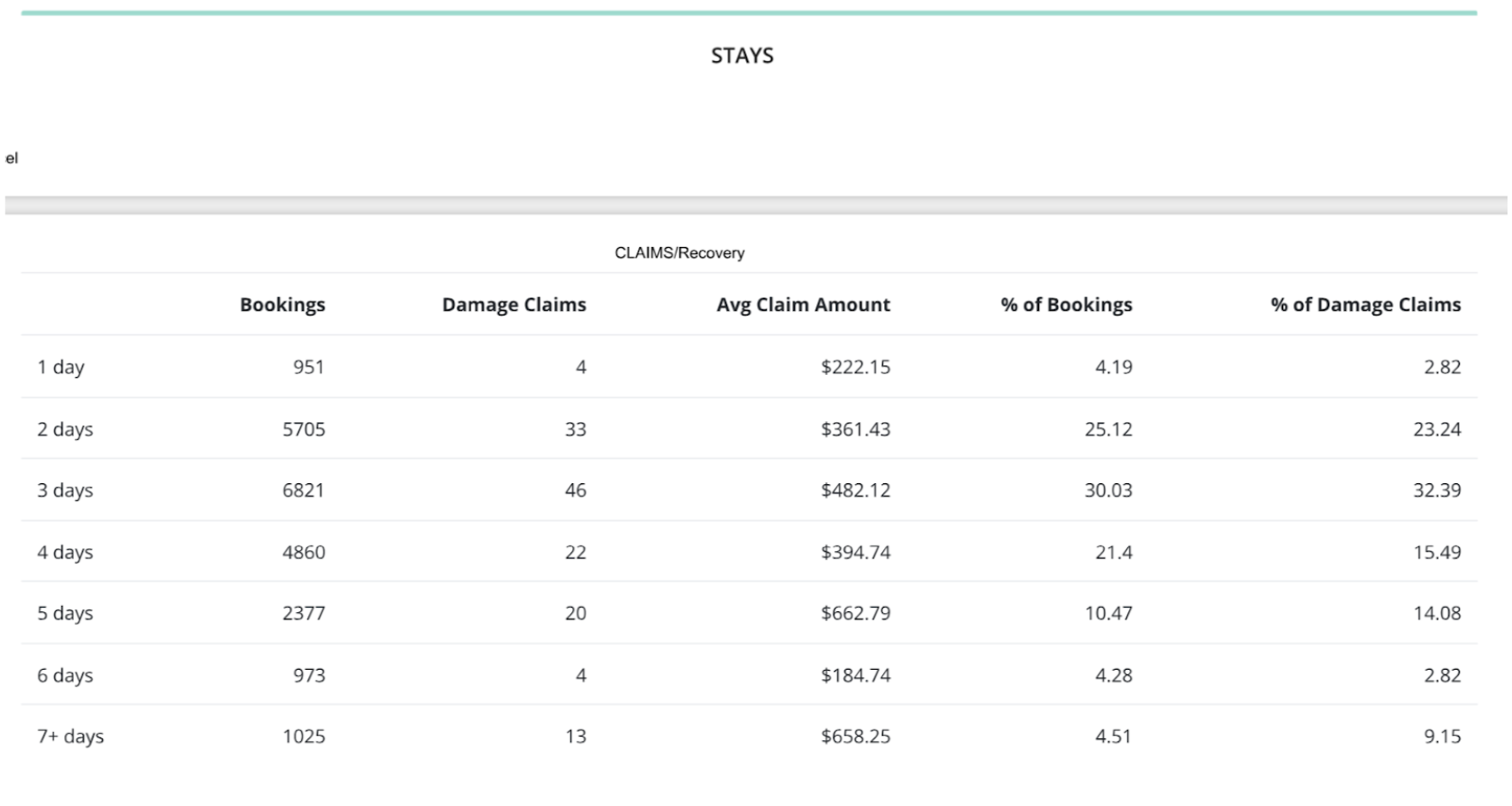 Damage Claims vs. Booking Windows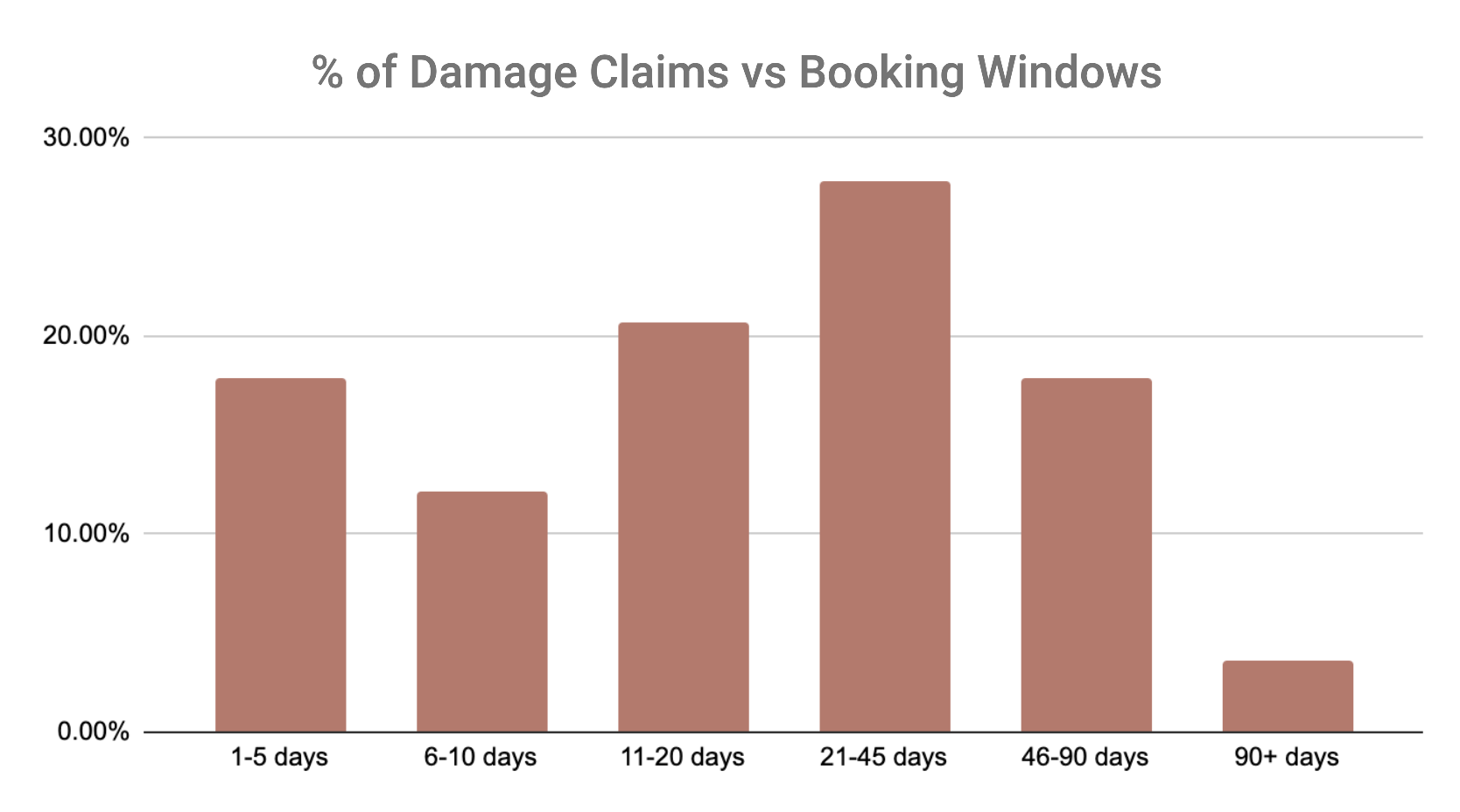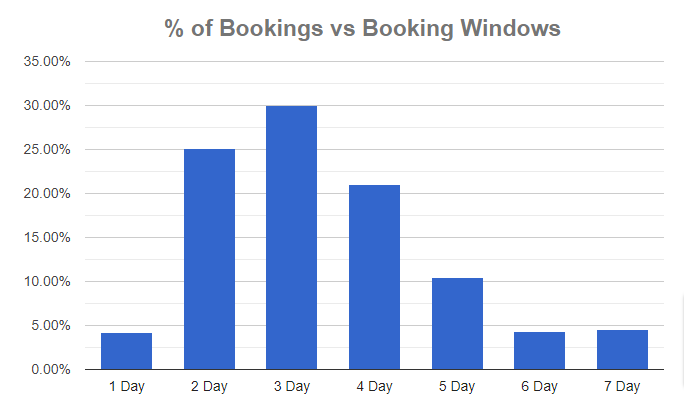 Booking windows are a puzzling one to analyze. Far-in-advance bookings of 90+ days show a lot less damage, that's true, but last-minute bookings with a 10-day window don't look too alarming for damage claims. In general, whether the booking window is short or long, it doesn't seem correlated to damage.

Damage Claims vs. Cabin Size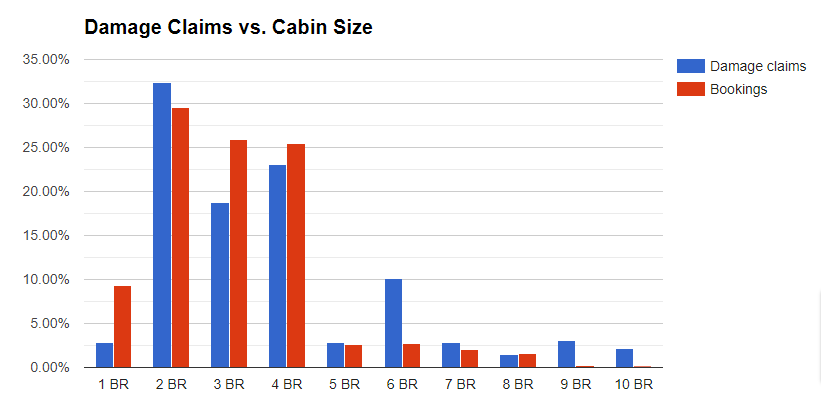 Likewise, we can't notice a strong correlation between damage claims and cabin size. We can see though that, as cabins get larger, the value of the claims increases. Still, we don't have enough details with these numbers, so it's possible that specific claims can distort them.
Another thing to have in mind is that damage claim rates can vary by season, location, and the profile of those who look for rentals. Folks down in Florida have a major headache during spring break, for instance.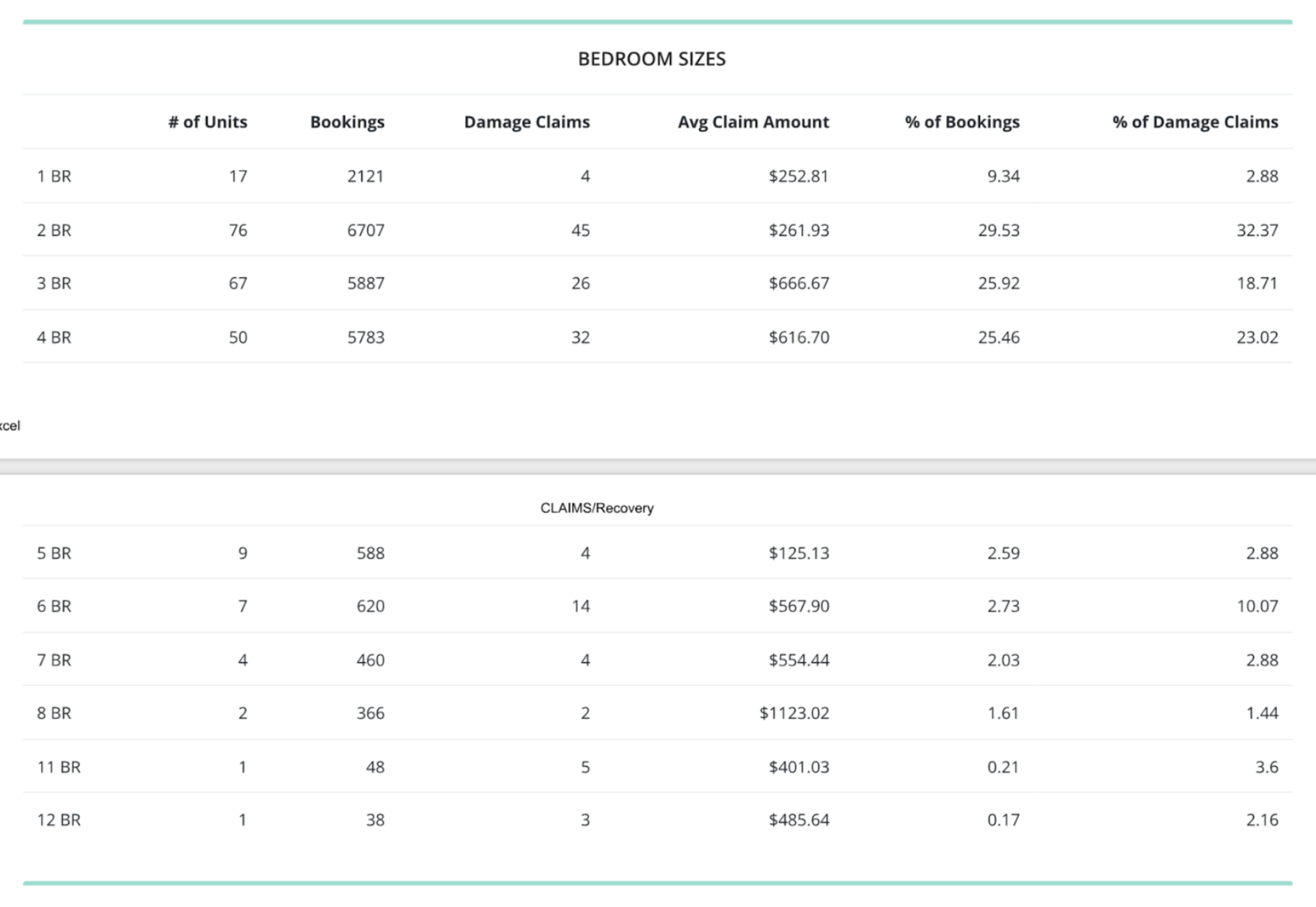 How to file a damage claim on Airbnb and Vrbo?
Asking yourself how to actually file a damage claim?
Let's dive right in.
Airbnb
On Airbnb, you can file a damage claim via the resolution center or Aircover. The latter involves a human appraisal of the situation.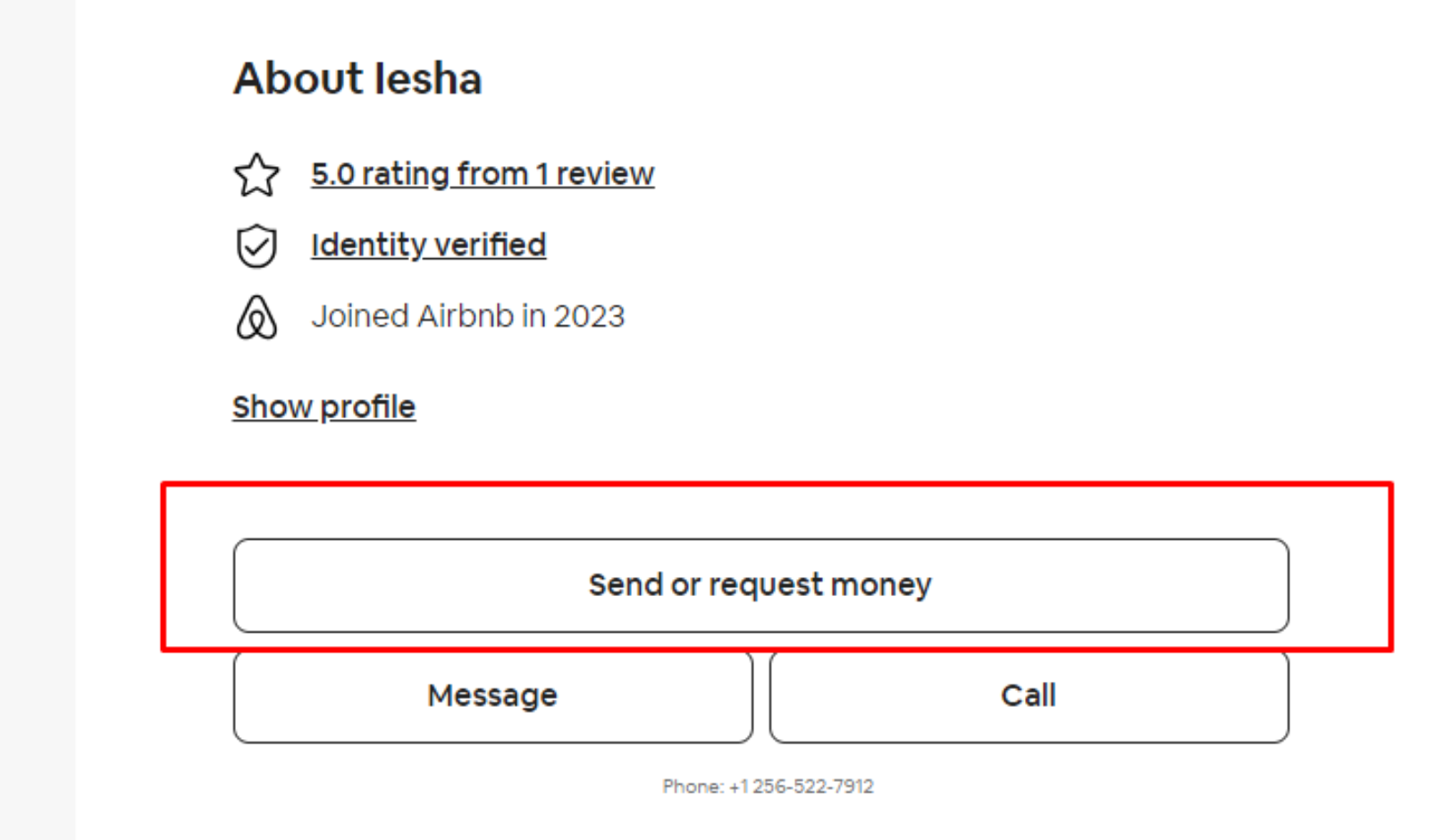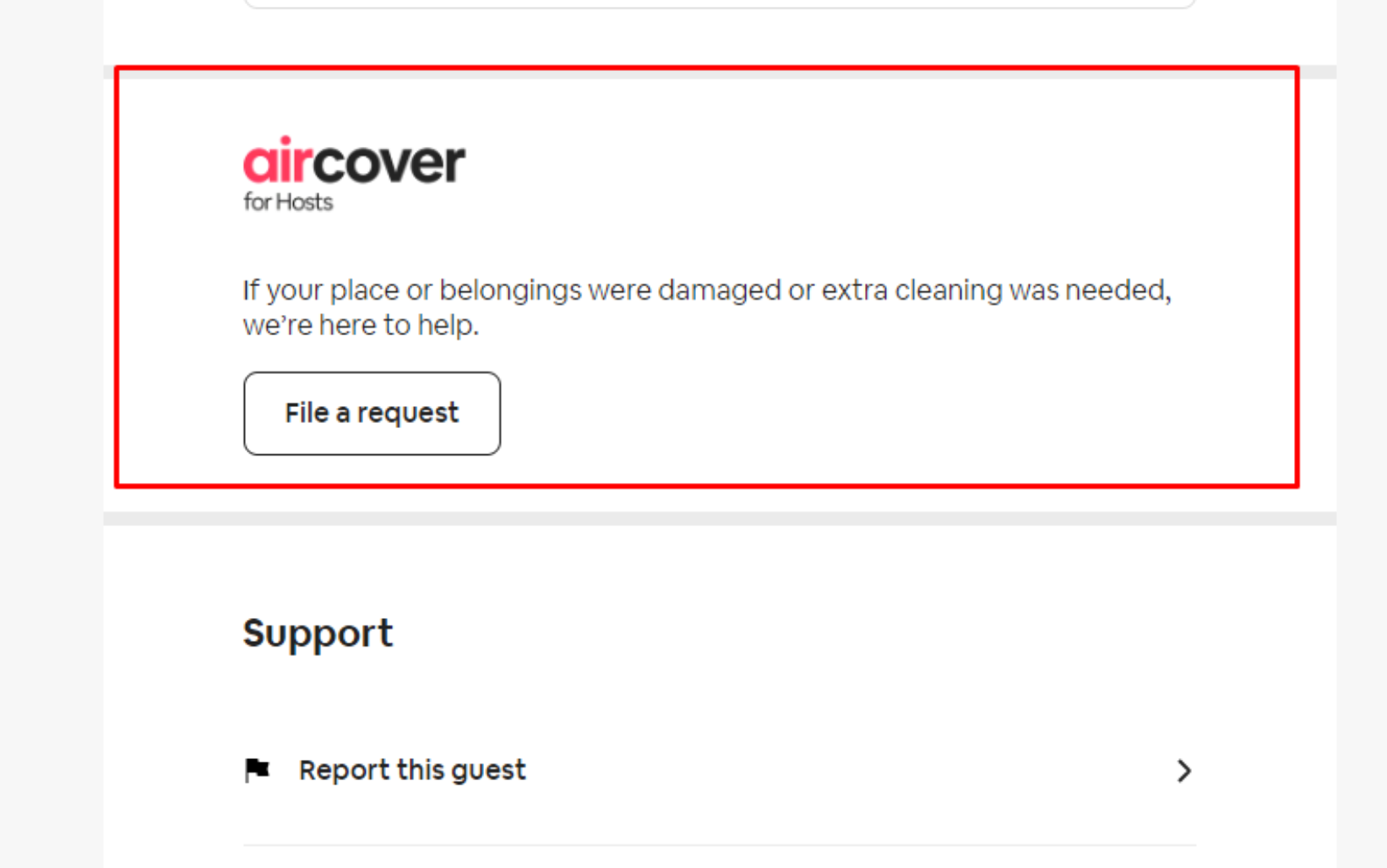 Or else, you can access the guest's message thread and select "File a Request" under "Aircover for Hosts."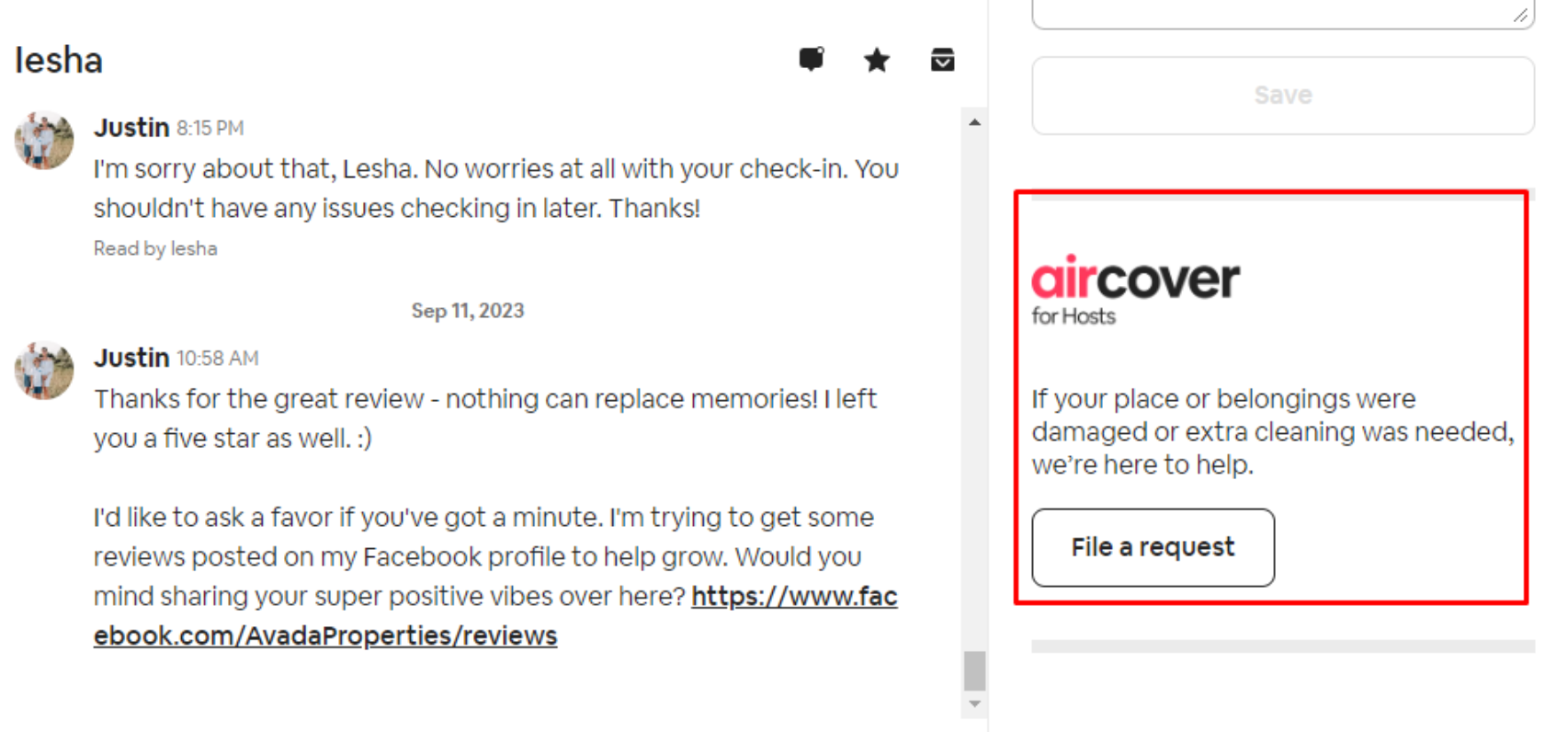 And fill in the details.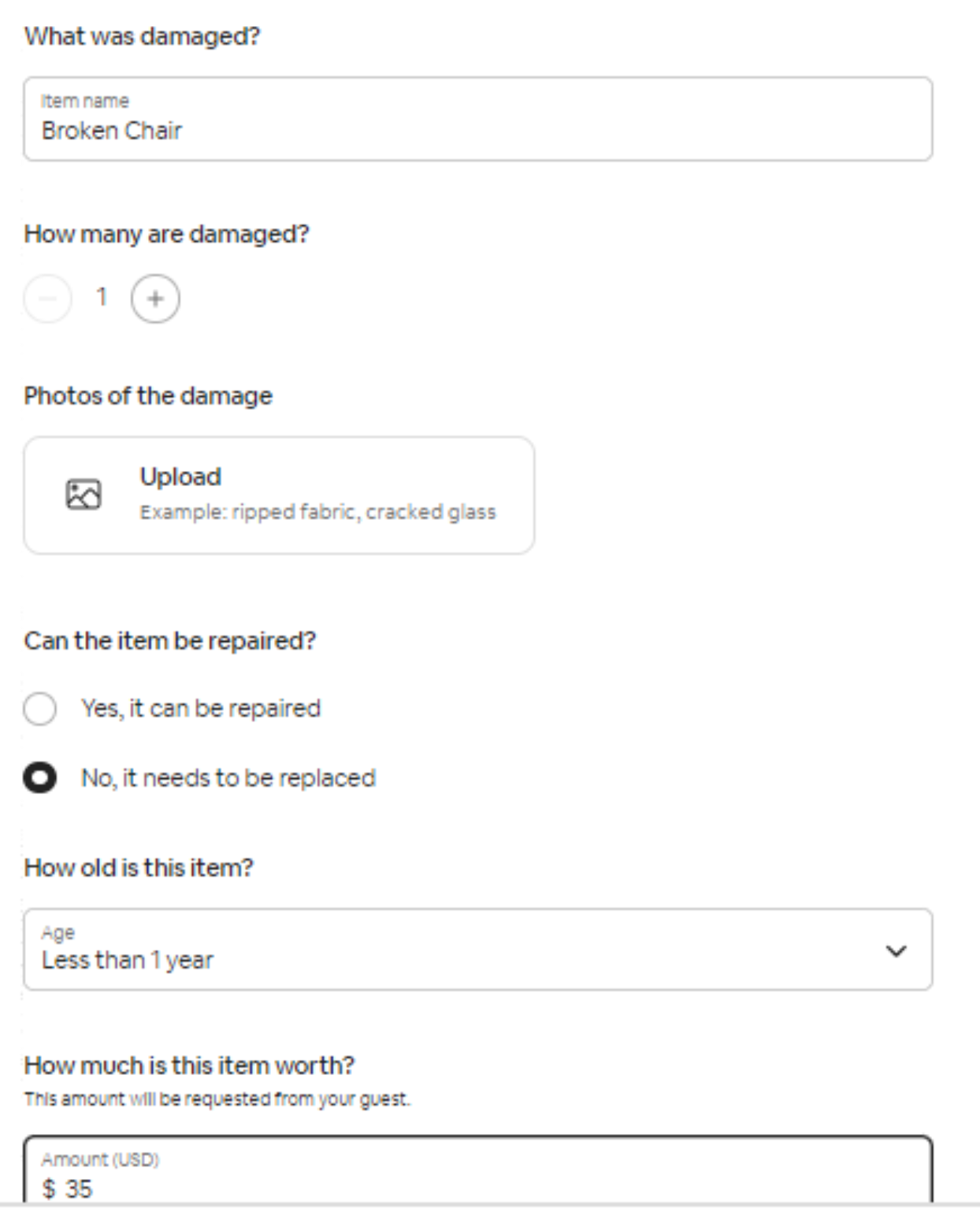 You can also upload the documentation and input the details.
Pro tip: by selecting "less than a year" for the item age and "no, it needs to be replaced" you're more certain to get the full value of what you're charging the guest.
Once you hit "submit," the information gets sent to the guest. 
They have 24 hours to either accept or decline the charge. 
If the 24-hour deadline passes, or the guest declines, you can click on "Ask Airbnb for Help" to get Airbnb to review the claim.
Remember: always try to provide as many details as you can, like photos showing the damage, receipts if you already bought a replacement or screenshots of the replacement that show its cost if you haven't bought it yet. This will allow Airbnb staff to work on their research for the actual value of the item.

Here's an example:
Broken Item vs. Replacement item:

If you have a before and after photo of the broken item with timestamps to prove that the damage happened during the guest's stay, even better.
Heads up: there's a 14-day period after the guest checks out for filing damage claims. If 14 days have passed, Airbnb will decline the damage claim.
Vrbo
Filing damage claims on Vrbo is easier but you should still pay attention at every step of the way and upload the documents as they request, otherwise, they can deactivate your listing.
First, look for "Damage Protection" on the sidebar of the message thread.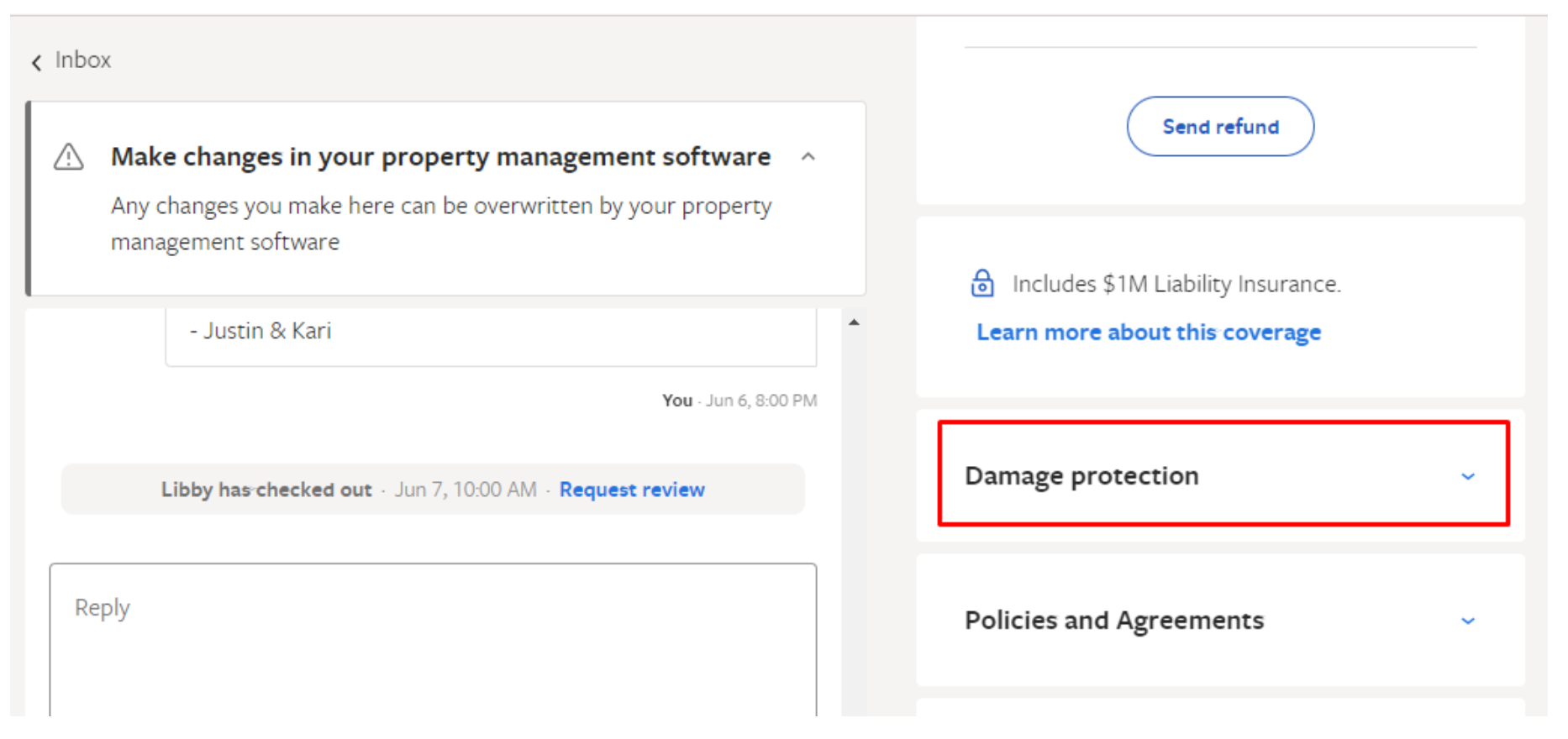 Then click on "Report Damage" and input the amount that you're charging the guest. 
The guest's payment method will automatically be charged once you hit submit, so you have to be 100% sure when filing a damage claim on Vrbo.
As with Airbnb, it's also very important to have complete documentation to support your claim. If a guest appeals the claim you filed, Vrbo will request the documentation to validate this charge.
Heads up: if you cannot provide proof of damage, they will deactivate your listing!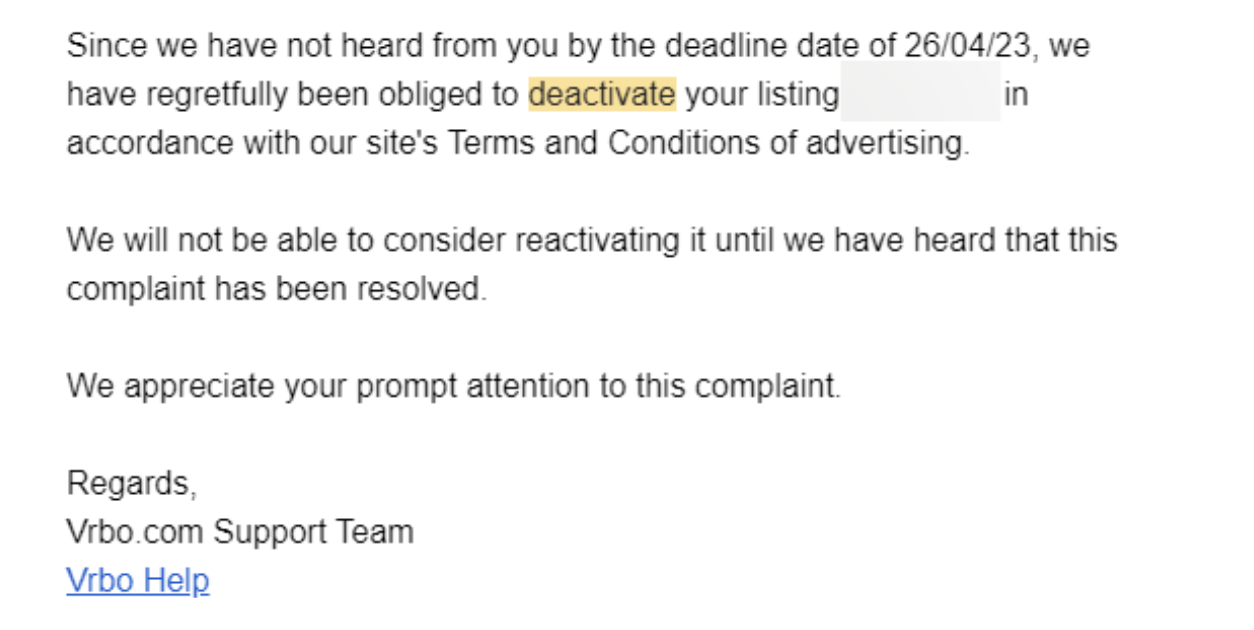 With Vrbo, there's a 30-day period after the guest checks out for filing damage claims. If the 30 days have passed, you will no longer have the option to file.

Using a PMS?

If you're using a PMS integrated with Vrbo, you'll have the option of charging the credit card on file. If you're using Vrbo without a PMS, your only alternative would be to make a claim against the damage deposit you've established.
Separating the small stuff from the big problems
The good news about damages is that most of the time when they do happen, they're minor issues that you can resolve in time for your next guest. 
Minor issues may include:
Broken dishes and glassware

Stained sheets and towels

A kitchen looking like a war zone

Wine spilled on the carpet

Late check-outs that disrupt the cleaning crew's schedule.


While you might incur additional cleaning expenses and need to replace minor items, these are typically not significant enough to warrant major repairs or replacements. These situations can be nerve-wracking, but they are part of the cost of doing business, and you shouldn't waste too much energy worrying about them. 
What you should worry about are significant damages to your property, such as broken furniture, appliances, or even structural damage and stolen valuable items. Such issues can cause costly repairs or replacements and may also affect your ability to host guests for a while. 
Still with major damages, the solution starts with the same idea above: don't take it personally, it's part of the biz.
You need to understand your grounds for damage claims. Some objects naturally deteriorate over time, especially when used frequently by many guests. Hosts must consider the concept of 'wear and tear,' which refers to gradual damage. 
For instance, if a guest accidentally spills coffee on an old carpet already stained, do you genuinely have a valid reason to be upset?
Examples of situations that fall under wear and tear include:
Minor scuff marks on walls

Breakage of aging furniture or appliances

Residue from makeup left on hand towels or face washers

Limescale buildup around the walls of the shower

Tears in aging rugs or curtains

It's virtually impossible to entirely avoid wear and tear in a rental cabin. However, regular maintenance and the use of high-quality, durable materials can significantly reduce the likelihood of damage.
Taking minor damages as a recurrent cost
Just like hotels, short-term rental owners deal with minor damages frequently. At the end of the day, this is a profitable business for cabin hosts, so it makes sense to have a budget set aside for minor damages and wear and tear.

Consider raising your nightly fee by a couple of bucks and that might be all you need to do to avoid the impact of negative surprises.
At Avada, we recommend setting 5% of your gross income towards repairs and maintenance. We know that a guest should pay if they break something. But it just isn't best for your long-term success (and mental health!) to keep insisting on minor issues.
With cabin rentals, when resolving any type of issue, communication is key.
Regarding damage claims, if the guest books your property through an OTA, it's best to communicate with them through the platform to keep track of everything. 
Always start the conversation politely, try to understand what happened, and ask the guests if they're willing to cover the costs. Good communication often leads to a simple resolution, benefiting both parties. 
However, if this approach fails, hold on firmly to their safety deposit and file a complaint through the OTA resolution center. They will most likely take it from there, but you might still need to provide evidence of your claims.
Heads up: the process of pursuing a claim can often result in negative reviews. If that's the case, you can also contest the review with the OTA and you might find this blog helpful. Still, you'll need to provide evidence that the review is fake or unjust.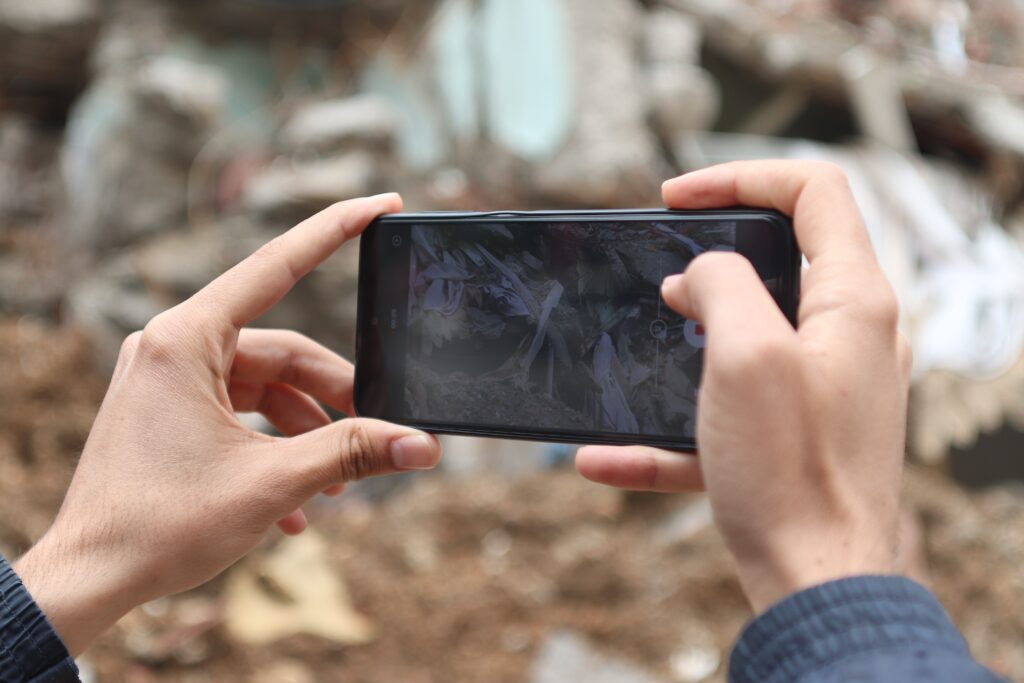 Collecting supporting evidence
The more detailed your assessment of the situation, the more likely it is you'll get compensated.
Document the damages: during property inspection procedures, take photos or videos of the damages as soon as possible to provide evidence, including close-ups. It also helps to have before and after pictures, so you can ask your cleaning staff to film your property occasionally during their routine work. This will help when you need to make a claim with the OTA or insurance firm or if you need to pursue legal action.


Keep track of communication with guests: reach out to the guests through official channels and try to understand the situation. If applicable, politely ask them to take responsibility for the damages and pay for the repairs.


Collect information on additional costs: gather invoices, find links to replacement items that display the pricing, or request estimates from contractors. OTAs will take these into account when determining if you're eligible for reimbursement and how much.
Damage claims and direct bookings
If your rental cabin in the Smoky Mountains receives direct bookings, you must work on your rental agreement well and ensure you have a clear policy regarding damages. Also, make sure you collect proof of government-issued ID.
Armed with the above, if you come across significant damage to your cabin and the guest is unwilling to take responsibility or pay for the repairs, you're better protected.

You may need to consider legal action. In such cases, it's best to consult a lawyer specializing in rental property issues.
Other best practices to minimize damage claims
There are several ways you can work on avoiding damages or major losses. 
For instance, establishing clear expectations is important. If you tailor your cabin to be more appealing to families, this can make a big difference in avoiding parties. Another example is that if you don't allow pets, be sure to communicate that clearly.
Moreover, don't leave things that are too valuable or irreplaceable around the cabin. Naturally, you should furnish your home with things that are high quality, but make sure these things are also replaceable. 
Communication is not only key to resolving damage claims but also in avoiding them. If you establish a good connection with guests, you can make them realize that they're booking a privately owned cabin, not a corporate hotel. Show them that human aspect, and they're more likely to treat your cabin with care.
Finally, remember: accidents happen and good guests break things too. Sometimes they may even pack things by accident (trust us, it happens!). 
None of this is something to get too upset about. That's just the way it goes. Before you get confrontational, give guests the benefit of the doubt.
How to deal with damage claims for cabin rentals in the Great Smoky Mountains
Owning a rental cabin in Pigeon Forge and Gatlinburg can be a very rewarding experience, both financially and personally, but you must understand that issues can and will arise. 
As our stats show, damage claims are almost a non-issue, but when they do happen, being prepared, knowing how to act, and not getting too emotionally involved is the way to go.
Cabin on!