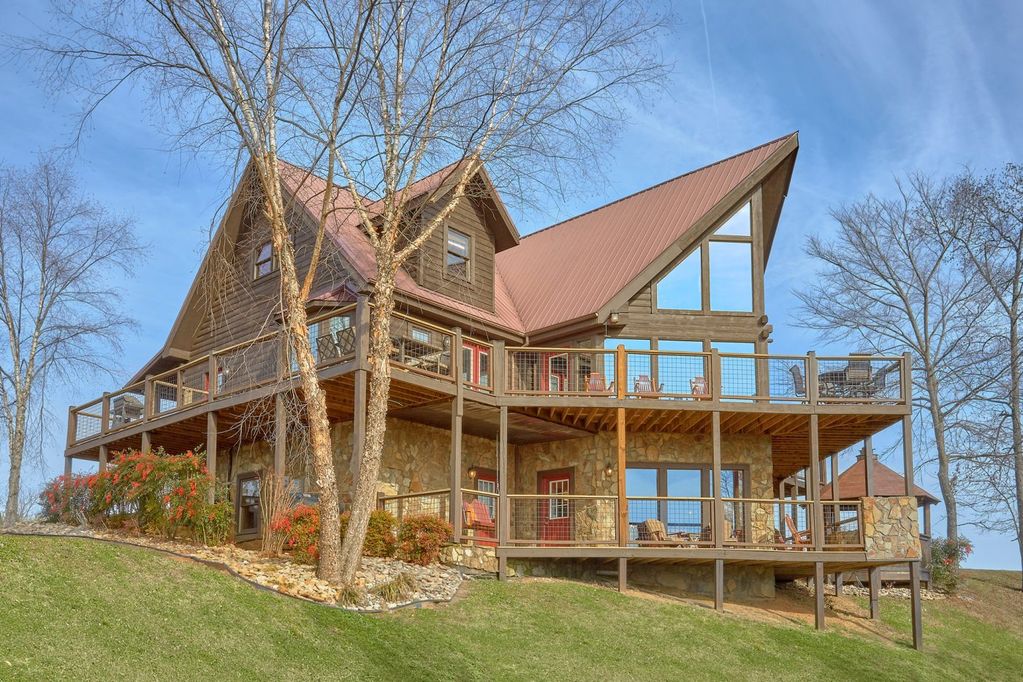 Looking for a better Pigeon Forge property management company? We are a locally operating management company that consistently receives "five star" reviews from our customers.
At Avada Properties, one of our top priorities is exposing your cabin to as many potential renters as possible. We don't just promote your cabins on one or two booking sites; we list your cabins on all the top booking sites, including VRBO, Airbnb, Expedia and over a dozen others.
We have a massive focus on boosting revenues, so you can expect to earn more as soon as we begin to manage your cabin. In fact, we guarantee you'll bring home at least $2500 more than your previous cabin manager or we'll refund our entire fee.
Features of Our Pigeon Forge Property Management Service
No hidden fees: If you've used any other property management services, you've probably come to expect hidden fees from all property managers. Maintenance fee, amenity fee, supply fee, restock fees. We have "zero" hidden fees. All of this is already factored into our management fee. For more information, here is a great article we wrote on how property managers "rent seek" and squeeze your profits away.
Exceptional marketing: With more than a decade of experience in internet marketing, we know that making a good listing is more than just writing a description and uploading some good photos. We have to use special 'search engine optimization' techniques that drive your listing to the top rankings. This results in both higher occupancy AND higher rates. In fact, we shoot to have at least 90% occupancy year round.
Complete management service: Yes, you read that right. We take care of everything. You won't have to lift a finger to keep your business running at full steam once you put us in charge of your properties. We handle guest communications, maintenance, cleaning, and repairs. We also follow up with guests for feedback, suggestions, and reviews. All you have to do is smile once a month when the direct deposit makes it to your bank.
Low management fee: While our competitors charge at least 30% to manage your properties, we take only 20%, and this 20% includes all the costs associated with managing your properties. There won't be any surprises or extra fees as long as you're with us.  This alone takes most cabin owners from being in the red to the black.
Rate optimization: We wouldn't be good at what we do if we couldn't optimize your rates to keep your properties booked all year round. We've written complicated "AI" programs that automatically change your rates as needed, based on demand, day of the week, events, and holidays. This ensures you never lose a guest because your rates are too expensive, or miss out on extra revenue because they are priced too low.
Up-to-date performance reports: Want to see how your properties are performing? Just log into your owner's portal account and you'll have all the information you want at your fingertips. You'll find everything you need to monitor your investments in your dashboard.
Our Service is a Win-Win for All Involved
Avada Properties is not just another Pigeon Forge property management service that benefits only the property manager, or just the property owner. There are benefits for you, your guests, and us.
You: We optimize your listings, promote your listings, boost your revenue, and keep your homes safe with smart locks installed in every property. We maintain your properties, keep them clean, and take care of them like they were ours. Our experts make sure all repairs are carried out professionally and in a timely manner. We do everything so you won't have to do anything. No more after-hours calls, and no more worries for you.
Your guests: Your guests benefit from our professional management services in a huge way. Guests check into clean and well-maintained cabins, which gives them the utmost satisfaction. Whenever they need help with anything, our fast response times and our speedy resolution of issues keeps them happy.
Another advantage for your guests is our knowledge of the market. Thanks to our industry expertise, we can figure out what amenities your guests want and provide it. This in turn benefits you because greater satisfaction leads to more repeat guests and better reviews. And of course we let you know what amenities aren't necessary, so you save money by only providing what your guests need. This is another decided plus for you.
Us: We thrive on making you happy and keeping your investments running smoothly and profitably. That is our top priority, and that's why we have one of the lowest management fees in the market. We know that if we keep delivering on our promises, it only gets better for us. We want to see your investments prosper.
We Focus on Property Management Without the Gimmicks
Our Pigeon Forge property management service is just as described above. We make no false promises, and we have no interest in gimmicks.
We've seen property managers employ certain tricks and gimmicks all in a bid to attract new clients, and we've also seen some of those clients express their disappointment after they wised up. We don't have long term contracts, charge inflated service rates or have hidden fees that steal all your profit. That's just not how we want to do business.
What Can Your Cabin Make?
This is the most common question that we receive and most property managers in Pigeon Forge / Gatlinburg are afraid to give you a specific number. In fact, as we were building up our own rental cabins in the area, our agent wouldn't even hazard a solid guess in her pro forma.

Using sophisticated "bots" to analyze cabins on Airbnb, Vrbo and a couple of the local cabin companies, we've been able to write a calculator that will give you an idea as to what you cabin will make with us.
Try the Cabin Rental Income Projector
Ready to Join Avada Properties?
Are you ready to experience our professional management and maintenance services? Are you ready to boost your revenue and save yourself the hours of calls, work, and stressful activities just to keep your properties booked and properly maintained?
Then take the first step towards freedom and higher profits by contacting us using the form below. It's risk-free because we don't have long term contracts AND we guarantee you'll make more money. (We know we're going to do such a good job that you won't want to go elsewhere) Fill the form below and get started now.