SELECTING YOUR CABIN
Finding a real estate agent
Having worked with many agents over the years, very few stand out as really solid agents. It's very easy to cram for a few days and pass the real estate exam. Most of these agents are happy to just do a few deals a year.
As an investor, you want an EXPERT that you really vibe with. In my experience, agents who are transplants from a big city seem to work the best. They have the big city hustle that many true locals just don't have.
They should have lived here at least a few years and do at least 25 or 30 transactions a year personally. When you put $500,000 on the line for a new cabin, the agent on your side needs to not be learning the ropes. You need them to guide you around potential issues like zoning, cracked foundations, or STR prohibitions.
Most importantly you need an agent that will pick up the phone and write offers the moment you're ready to pull the trigger. Waiting even a couple of hours can lead to a lost deal, so time is of the essence.
We're always happy to share with you the agents we love and use personally, so just reach out.
Cabin revenue possibilities
Our founder Justin Anderson is a refugee from the dot com days and has an extensive background with both search engine optimization (SEO) and software development. Using that strong background, we have built proprietary tools that analyze two large local cabin managers plus thousands of Airbnb/vrbo listings. We utilize that data to maximize your nightly rates and achieve higher overall occupancy.
This is one of our core differentiators.
Estimating revenue that your cabin will bring in is both an art and a science. Here are yearly gross earnings for our cabins based on previous data. This is after all taxes are paid (approx. 12.9%) and the cleaners and supplies are paid for.
1 Bedroom 60-70k
4 Bedrooms 110-120k
2 Bedrooms 75-85k
5 Bedrooms 130-140k
3 Bedrooms 90-100k
6 Bedrooms 150-170k
These are the low bounds of what a cabin may make under our program. The upper limits of what a cabin can make can be quite high. Some factors that play into this are:
Quality photography – This is one of the most important factors in securing bookings
Proximity to downtown – Cabins close to Pigeon Forge and Gatlinburg proper can earn 10-20% more
Cabins vs Homes – People come to the mountains for a unique and special experience. Homes make half the revenues of what a cabin can earn.
Entertainment amenities – Arcade game, pool table, hot tub, foosball, zip lines, etc.
View – Not as important as you'd think, but still plays a factor
Quality décor – People like and appreciate well done décor. Look at all the other cabins and work to be a bit different. Always shoot for a room or feature that is "Insta friendly".
Location
When you think about it, our market area is pretty massive. About as many people search Google for Pigeon Forge as Gatlinburg, so both get great activity. However, most cabins are in Sevierville (both a city and the unincorporated areas outside the other two cities).
The name of the city your cabin is located in won't have any real impact on bookings. However, proximity to downtown Gatlinburg or Pigeon Forge can have a big impact on your earnings.
If you look at the map below, here is where you should focus your search for best earnings. You'll want to stay south of 441 that runs through downtown Sevierville, on the west side, don't go beyond Wears Valley, and on the east side don't go past the Cobbly Nob development. Of course, if you find a deal you can stretch the boundaries, but just know you'll be located in a lower revenue territory.
If you can stick close to town – in the red figure below – you'll find your cabin will make a fair bit more money.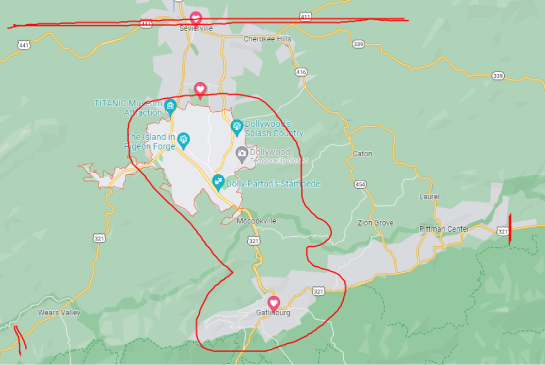 Making an offer
As of this writing, our market is stable after seeing a post-covid run up with the low interest rates. While it's possible to get a 10-15% return with a cabin, many 'second homes' can be bought using 10% down instead of 20% down which effectively will double that return.
First, you'll need to get an agent lined up. I'm happy to recommend ones that we've worked with or you may already have one. They are your eyes and ears on the ground and need to know the pitfalls to look out for. As a buyer it costs you nothing, so get one!
Next, you're going to need your pre-qualification letter already filled out for some high dollar amount. (Or a proof of funds letter if you're paying cash). You won't have time to get these letters filled out for each offer.
Unlike buying a traditional home, you will have to do a lot of the legwork yourself. Twice a day you'll need to search Zillow/Realtor.com, looking for all the new listings that have been posted. When you find one you like, contact your agent to discuss the right offer to make and get it in.
Most cabins go under contract in under 24 hours. You don't have time to walk the property and you don't have time to wait for the daily emails of new listings. Winning deals favors the bold.
Thankfully, Tennessee has loose rules around how earnest money works. It's super easy to back out of an accepted offer and get all of your earnest money back. This means it's basically no risk to you to win bids because you still get a chance to walk+inspect the cabin after you win the bid.
Almost all of the time you'll be competing with several other offers so be prepared to buy at/over asking price. A fair portion of the bids going in will be all cash offers and if not, many will waive inspection or have an appraisal gap clause in there.
Your agent will guide you through the process but just know that you have to be decisive and expect to lose several bids before you win one.
ONBOARDING YOUR CABIN WITH AVADA
Startup costs
As you begin your cabin journey, there will be a handful of startup costs that you need to be aware of. These will likely cause the first month or two to be minimally profitable or even negative, so plan accordingly. Existing owners shouldn't have nearly as many start up costs as new owners.
Just about every inspection generates a laundry list of items that may need to be addressed. And if you've walked through, there may be some cosmetic items that should be added to the list to be fixed. Just prioritize what needs to be done, itemizing any critical items and we can help guide the process.
Our business is largely visual so we need our properties to be appealing in photographs. Spending an extra $5000 on fun wall art and lamps and comforters can go a long way to higher revenues. Unique pieces and features that photograph well will get you the most bang for the buck.
Of course, any broken, damaged or aged furniture also should be replaced before it negatively impacts guest reviews. Spend a bit more on higher quality items since guests can be hard on things.
You're spending over $500,000 on a rental cabin. It's imperative to invest another $400 for professional photos. Taking good photos is one of the most important things we do when we bring on a cabin because it IS your marketing. Cell phone shots, the old Zillow photos or old cabin company shots are almost always not good enough quality. If you want the best results, this isn't the place to cut corners – we promise.
We charge for a full set of linens twice a year. The price varies based upon beds (sheets) and sleep count (towels) and runs about $20 for a towel set and $25 for a set of queen sheets. This charge covers the usual wear and tear that happens throughout our heavy guest usage.
As you can imagine, guests regularly eat meals at the house, exchange gifts, or otherwise end up with a bunch of garbage. In an effort to keep a smooth guest experience, we strongly encourage you to buy a bear can. Bear cans consist of a metal cage that can fit 2 to 4 large trash cans inside. Without a bear can, guests will put trash outside which will almost always get attacked by local critters. With a bear can, trash gets locked up until the cleaners haul it away.
People come to the area for unique experiences and that's why cabins do so well (and homes don't do well). As part of that effort, we provide guests with amenities they don't have at home. Some of these are:
Hot tub: By far the most popular amenity and is a virtual requirement.
Arcade/Multicade: A video game machine is unique at the 1 or 2 BR level and becomes expected at 3+ bedrooms.
Pool table: Always a hit, people love to play pool. Cabins don't always have space for it and it's not worth sacrificing a bedroom. If possible, include it because it's popular.
Air hockey/Foosball/Shuffleboard: As you get to 4 bedrooms and higher, we need things to keep kids busy. These amenities get mentioned in guest comments and reviews and are expected at this cabin size.
Xbox 360/Karaoke/Record Player: It's relatively inexpensive to add these into a bunk bed room and are a 'wow' that goes a long way with guests. If/when they break it's no big concern simply because they're inexpensive.
Movie Theater: At 4 BR and up, it's very common to have a theater. Projectors and the corresponding receiver system are rare and most owners choose to simply buy a large TV. The chair situation is really a matter of preference. Most don't have/like the cheap movie theater seats and the trend now is for a row or two of large, comfy theater recliners. Other owners opt for a sectional and bean bags or a couple of couches. It really just depends on the size of your room.
Swimming pool: If you can swing this one, a private pool will bring at least $30,000 in additional revenue per year. Maintenance costs are typically under $400/month so you can imagine how well this hits your bottom line.
Unique features: Some fun ones that our owners have done are zip lines, pop a shot basketball, fire pits and walking trails. Just use your imagination and let's brainstorm!
Amenities NOT to provide: If you notice, everything above is low maintenance. This is important because guests can damage and lose pieces, so we don't want things that will be impossible to maintain. Books, Jenga, foam blocks are all good because they function when a piece is lost. Puzzles, board games like checkers, nerf guns, etc. are all bad because they'll be instantly unusable after the first guest.
Something that is important to prepare for is that your first month (or maybe even two) may be negative. Bookings for the first 4-6 weeks will be at a lower nightly rate initially to get momentum and when you combine that with all of the above it can lead to a slow start. Just hang in there because the payoff is worth it.
Deep cleans
As a rule, we like to deep clean the cabins at least once a year. Heavily used cabins, larger cabins, cabins that allow pets should all expect a clean twice a year. Deep cleans typically cost around 3x of a normal cleaning cost and are just as involved as you'd expect.
Appliances get moved out and cleaned under
All furniture moved and cleaned under
Blinds and fans and ledges dusted
Walls and ceilings policed for cobwebs and the wood treated
Hot tub and jacuzzi tubs flushed and cleaned
Cleans after each guest are good, but they're not that 'spring cleaning' like everyone does at their personal home. The regular cleans make sure fresh linens are replaced, the hard surfaces are sanitized, floors cleaned, hot tub drained, obvious issues are addressed, etc. But they won't hit ALL the little nooks and crannies – grout in the showers, iron stains in the bathrooms, dust on top of the fridge, underneath a sleeper sofa, blinds, etc. A deep clean is that good reset you need so cleaning complaints don't start coming in.
It will be necessary to block your cabin for one or two days for a deep clean, and we'll schedule it during the week or in a gap between two stays to make sure there is minimal down time.
Utilities
After you purchase your cabin, you'll want to get all the utilities in your name. We suggest making a cabin Gmail account to use for registration, that way you can share the credentials with us.
Electric: This is Sevier County Electric service and they can set you up in about 15 minutes. Be prepared for a deposit that is the highest two months of your previous year.
Gas: Most cabins use propane for fireplaces and sometimes propane for grills as well. These require a storage tank that gets refilled periodically as the tank gets low. Ask the seller who the previous company was and start service with them as prices are all about the same across vendors and that'll speed up the transition. Be sure to pay extra to get monitoring on the tank for auto-refilling. Heritage Propane and Thompson Gas are two common companies' owners use.
Internet: Spectrum and Xfinity are two very common high-speed providers. You'll definitely want to use them if it's an option. The second choice would be high speed wireless and there are a few companies that offer it such as HollarNet or US Cellular. The last choice is satellite internet provided by Viasat or HughesNet. Just check with the seller or a local HOA for who was used to avoid having to hunt down a provider. If you're lucky enough to get a high-speed provider, be sure to rent the router from them to help avoid service call issues down the road. We'll also need for you to add us to your account so we can handle late night service calls without you.
Water: Almost all cabins are on well water which has a unique set of challenges. Here are a few things you need to know.

Wells require a filter and that can get clogged based upon the quality of water coming out of the ground. Filters tend to be cheap so it's not a worry.
Well water is typically quite safe to drink but can also have issues that need to be addressed. It can have iron (causing a dirty looking hot tub), sulfur producing bacteria (causing a horrible, horrible smell) or have sediment. These issues can be solved but just know that it may take time and money to sort out.
Well pumps go out and it can cost thousands of dollars to replace.
Wells can be shared with neighbors. Who pays the electric bill and the maintenance bill is up to your purchase deed. Most often folks just split the bills.
On average you'll pay way less than city water, so enjoy!

Septic: Most cabins also have a septic system to handle waste. We'll typically pump your septic system as soon as we take over management and schedule it to be pumped yearly. Cost is based on the amount of waste but it'll typically run around $450.
Trash: All the trash the guests produce is carried away by the cleaners. They'll drive it off to the dump on our behalf as part of their cleaning fee.
Streaming vs cable
Guests that come to the area expect cable channels as an amenity. While most guests these days bring their own streaming accounts, not having live sports is what can upset guests.
In almost all instances, it makes more sense to use streaming accounts (YouTube TV, Hulu Live). It'll be less expensive than renting cable boxes and paying those higher rates. And it'll be one less thing to break. Just be sure to register them with a generic email address that you can share with us.
For this to work, you'll need all smart TVs or a Roku device that makes your TV smart. Smart Roku TVs are inexpensive at Walmart and Amazon and many owners simply update the TVs as part of renting their cabin.
Roku is the brand we like because it's very easy for guests to learn and replacement remote controls are inexpensive.
Investing in décor and cabin updates
As you prepare to jump into the short-term rental market, it's best to set yourself up for success by adding updates that the market expects. An entire book (or at least chapter!) can be written about this, but let me break it down into simple bullet points.
Meet basic expectations. People renting a cabin expect the basics to be 100% in order. That includes, but is not limited to, all appliances working, bbq grill, fireplace, hot tub, driveway navigable and live TV of some sort for sports.
Folks come to the mountains for uniqueness. They want something they can't have at home – a real wood cabin with all the amenities! Anything you can do to stand out will help increase your revenues. That could mean an extra large game room, fun bunk beds, a man cave, an indoor pool, a zip line, an amazing fire pit, etc.
Updates that photograph well. Marketing your cabin is highly dependent upon good photos and, aside from having a great photographer, you need to give them something great to photograph. Look at the other cabins out there and try to come up with something unique that makes you stand out from the others. A chunky, fuzzy blanket. A neon sign. A putt-putt course. Built in bunk beds. A unique fire pit. There are lots of options to get creative and applying them will earn you higher nightly rates.
Expected amenities
As you deck out your cabin, keep in mind that you need amenities that are appropriate for your size. You have to at least achieve a basic standard to achieve normal rates and if you can get a "WOW" somehow, that'll help you pull ahead of the pack even more.
Hot tubs are a requirement for even 1 bedroom cabins.
2 and 3 bedroom cabins need at least one entertainment amenity. Typically, this is a multicade or a pool table.
As you hit 3 and 4 bedroom cabins, you'll have 2 or 3 entertainment amenities and that may include air hockey, foosball and occasionally shuffleboard.
Once you hit 4+ bedrooms, things really begin to get interesting. Many/most cabins will have some sort of theater or media room and/or a game room.
As you get even bigger, you'll have more amenities. Maybe 2 game rooms, an indoor pool, an amazing patio with an epic view. Just know that it's about amenities just as much as a wooden house to sleep in.
Contract
As you can expect, a contract is needed before we start to manage your cabin and our contract is pretty simple. We ask that you stay with us for the first 90 days, after which you can cancel at any time. We need to earn your business every month and don't feel that locking you into a long-term agreement is the way to be a good partner.
Handling existing reservations
If this is a new cabin you're purchasing, often there are existing reservations from the seller. Handling the existing reservations when you transition is never a perfectly smooth process. There are a few items needing consideration.
Cabin Manager
If there is a cabin manager in place, the transition can be smoother. Just set a "stop date" with them and have a "start date" with us a day afterwards. Unless it's written into the purchase agreement, you as the buyer have no obligation to honor any old reservations. Most of the time we have our start date be the day of closing, but it also sometimes happens that the transition happens 30 days later. The old property manager will either move bookings into other cabins or cancel them.
Self-Managing
If the owner manages bookings, then things will need to have a little more coordination. Most typically all the bookings will be canceled on the day of closing, at which point your listing goes live. We'll give the seller a message to send the canceled guests, inviting them to rebook the cabin.
Most of the time new owners will honor pricing for the next 30 days, at which point any rebooking guests will have to pay the higher rates. Occasionally a different structure is done, such as honoring more bookings or honoring none at all.
As you would expect, many guests get upset that they have to wait for a refund from the seller and then re-book with your new listing, but that comes with the territory. We do our best to position it in a positive way to smooth things over.
Typical "go live" timeline
While going live is different for every cabin, here is a typical timeline.
| | |
| --- | --- |
| Day 1 | You close on the cabin and get keys |
| Day 2 | We go inspect and "onboard" the cabin |
| Day 3-4 | We deep clean the cabin |
| Day 5 | Assuming the cabin is in good shape, take photographs and present you with inspection findings. |
| Day 6 | You approve some of the suggested repairs, we purchase replacements for missing/damaged objects. |
| Day 7 | We receive photos back and create the listing. You're now live and able to take bookings! |
Of course, if décor changes are required, that needs to be done first. Repairs and maintenance tasks can often be done while we wait for photos to come back. And around half the time a deep clean will be needed before the first guest arrives. Expect quite a bit of kitchen and home items that need to be added. We will check everything from crock pots to baby gates and wine glasses and purchase it on your behalf. If you wish, just ask and we can provide you with our shopping checklist for you to buy your own items.
Listing sites
As part of our marketing efforts, we will list your cabin on Airbnb, Vrbo, Expedia, Orbitz and several other sites. While each of these sites is an opportunity for guests to book your cabin, in our area most of our bookings will come from Airbnb and Vrbo. The exact percentage of bookings per channel will vary based on cabin size and location, with most bookings coming from Airbnb.
Each site will have its own rules with regards to which cabins it shows in searches. Price and availability are two huge factors, and people can also search on things like indoor pools and being pet friendly to find a cabin they want. There are some "SEO" things we do to rank better in searches. That includes things that aren't obvious like having a work area or hangars in the closets.
That said, our goal isn't to rank super high on the search results page – it's to make the most money possible. We need to strike a perfect balance between ranking (and getting views) to booking guests. If we find you're booking too quickly, we raise the rates to slow down that pace to where it needs to be. Both of the main platforms also randomize results to find the best performers, so that also plays a factor.
Bottom line — Don't worry about showing up high in search results as that's not what's important.
Don't take things personally
It's important to remember that the cabins are tools for you to make money as well as a place for you to vacation and enjoy. Many owners put their hearts into making a place THEY want to stay, which is admirable. Just know that some guests won't treat things nearly as nice as you'd want. On occasion they'll move furniture, smoke indoors, break dishes, stain sheets, bring a pet, break a chair, rip a comforter… You name it.
Wear and tear is a normal part of your rental cabin, in much the same way it's the same as a traditional long term rental. If you can detach yourself emotionally and recognize you're making profit that you can improve your property, it makes it a lot easier to handle the inevitable bumps along the way.
(And yes, I know this is hard to do but do your best to try!)
GUESTS
Obtaining higher quality guests
As property managers we have a bit of control when getting bookings. We work hard to make sure we are getting the best guests possible, while at the same time staying within the guidelines of the law. Here are a few of things we do that help:
Be at least 25 years old. For 1 and 2 bedroom cabins we'll sometimes bend the rules after talking to the guest because parties don't typically happen at small cabins. For larger cabins, we'll typically require the guest to cancel their booking.
Avoiding groups. Surprisingly, church groups and school groups are some of the roughest on a cabin. The theory is that the chaperones want to be thought of as 'cool' with the kiddos and give them too much freedom.
Avoiding pets. We'll politely decline all guest requests to bring a pet. There is a lot of legal wiggle room when they claim it's a 'service animal' and we do our best to dissuade them by hitting them with requirements. That works great and your cabin stays safe.
Not allowing one night stays. Minimum stays aren't generally necessary in our market due to the millions of visitors a year. However, one night stays are really too risky. We'll only allow a one night stay in between two bookings and never at larger cabins.
Request a copy of the ID and guest list. We ask, but don't require, that potential guests provide a copy of their photo ID and a guest list. This enables us to get an idea as to what type of group is coming.
Set proper nightly rates. Rates 30+ days out will be above average for cabins that are booking. Rates less than two weeks out will have a last-minute discount applied. We make sure the lowest nightly rate is above hotel prices and in line with similar cabins that are booking so we don't get those bottom feeding guests.
Guests that break the rules
It is inevitable that some guests will break the rules and choosing how to handle it is really important. We choose to follow the hotel model which is generally 'don't ask, don't tell' and only addresses the rule break directly if the guest forces our hand. The booking platforms are very guest-friendly, which means we aren't left with any great options when this happens.
Here is an example of our options for a guest that brings too many people on their stay:
Drive over there to kick them out, resulting in a service call charge, refund and a bad review
Ask them for more money, likely resulting in a bad review
Ask them nicely to have folks leave and not follow up (as it would lead to option 1 or 2)
Do nothing and chase them for funds if they cause major damage
I agree it is wrong of the guest to bring more people or a pet. And as an owner it is frustrating to have to allow rule breaks to get off without consequences. But in this case, enforcing the rules very much is a case of it hurting you/us more than the guest.
Also, to help make you feel just a little bit better, we average around 1,000 stays per damage claim. Guests may leave the house messy or break some wine glasses, but in general your cabin will be left in acceptable shape.
Handling broken items
Every now and then, the worst happens — a guest breaks something in your cabin. Bum bum bummmmm. Unless the damage is significant, we generally just repair/replace it and pass that cost through to you on your statement. Why don't we attempt to collect from the guest? Let me explain with a real-life example…
Guest checks out and we see damage
We immediately contact them with photos and try and collect some amount of money
Guest says they didn't do it and it was broken/stained on their arrival
We attempt to collect and have a < 50% chance of making a successful claim
Guest now leaves a 1* review because they're upset because they "swear they didn't do it"
Now we show up lower in the rankings because the cabin has a lower quality score…
And we have to lower our rates X% to attempt to overcome the lower score. Over the course of a year, a 5% drop in rates could equate to several thousand dollars.
If we drop below 4.5*, we get delisted
It only takes a couple of these guys before we see a real impact on nightly rates. And, even if we do happen to win, in the end the guest can issue a credit card chargeback and we still lose.
Said another way, as our review scores slip below the average, we have to lower rates $10 or $20 or $30/night. If you're booked 250 nights a year, that's a $2500 swing. Definitely not worth doing for a $100 dining chair.
To avoid this entire scenario, we recommend you plan on applying 5% of your gross income towards repairs and maintenance. That 5% will cover wear and tear for everything from torn comforters to the pot and pans sets and silverware that are needed twice a year — it's just a cost of doing business. We agree a guest *should* pay if they break something. But it just isn't best for your long-term success to chase a $100 item and lose $1000 in yearly revenue.
Handling larger issues
We handle repairs in a similar fashion to how a hospital triages a patient.
First, we assess the issue. Is it impacting a guest? Can it be handled during a turn? Will waiting cause extra issues/damage? Then we address the issue as appropriate.
Let's look at a few examples:
A refrigerator goes out just before a guest checks in. We see if the local shops have anything in stock and quickly work to replace the appliance before the guest checks in. If we're unable to replace it in time, we try to notify the guest of the issue before arrival and discuss how we'll proceed. Very often we'll credit them $50 or $100 for the inconvenience and so they can cover dinner/putt putt/moonshine while we work to replace it.
A refrigerator drawer is broken by the last guest. We order a new drawer online and patch up the current drawer while we wait a week or two for the new one to arrive.
A hot tub goes out. Parts are often not kept in stock, so we need to wait several days. That means more than one guest is likely impacted. We'll refund for the inconvenience, just like above. For any upcoming guests, we give the option to cancel for no penalty the day before check in. (If we don't do that, they can get a full refund after their stay by claiming a major amenity wasn't working)
The deck railing is beginning to rot and a couple of spindles have fallen out. If it's a safety risk, we need to shut down any bookings until the repair is completed. If it's possible to shore it up, we'll do that until we can block out the days for a proper repair.
We address issues with common sense. Health or safety concerns result in the cabin being blocked until repairs are made. Inconveniences like an appliance being out result in a credit. Minor maintenance items are handled during turns.
Lower priority maintenance items like installing a Ring camera or taking out a new bath mat may take a week or three so we can group up more than one task and save you on service call fees.
We also will encourage you to farm out larger more general contractor style work. That'd include jobs like installing a new deck, installing a new AC, tiling a bathroom or other larger projects.
As a rule, we are fairly liberal with guest credits. $50 or $100 goes a long way towards keeping that good will when there is an issue.
Construction projects and outside vendors
As a general rule of thumb, we'll encourage you to find an outside vendor to work with if a project is going to take longer than a day to complete. While we may be technically capable of rebuilding a deck or replacing a roof, that's not our core competency and we're not set up to handle big 'general contracting' projects.
We're happy to provide a list of vendors that we've used (or our owners have used) so you can pick the one you like. We'll be able to work directly with them to get them door codes and schedule a post-construction clean.
Some examples of projects that'll probably fall into this area:
Replace a roof or large section of a roof
Replace a large section of flooring
Replacing kitchen cabinets/counters
Rebuilding a deck or large section of a deck
Paving a road
Projects that we can typically handle:
Repairing a section of damaged/rotting decking or railing
Troubleshooting plumbing leaks in bathrooms
Repairing a damaged section of wall or floor
Replacing a window or door
Mounting TVs
Installing a hot tub (often with help from a rented crane)
Cancellations
It is always a bummer when a cancellation comes in, but don't worry because they're very much expected. Here are the guidelines for how most cancellations are processed:
If it is 2+ weeks until the stay, the guest receives 100% refund
If it is 1-2 weeks, the guest will receive a 50% refund
If it is < 1 week, the guest will receive no refund
Rarely, we will bend the rules around cancels due to weather, personal issues or the like. But as a rule, we don't mind playing the bad guy and denying refund requests. (Guests that cancel can't leave a review.)
Guests do have a 'get out of jail free' card they can play to get around this policy. Airbnb has a policy called 'extenuating circumstances' that allows guests to cancel at any time up until check-in if certain criteria are met. A guest can claim covid exposure or a regional travel ban impacts them and cancel for no penalty. We do our best to fight these as well, but generally are at the mercy of the Airbnb representative we deal with.
Any funds that we are able to collect are passed through to you just like a normal booking and will show up on your monthly owner statement.
Around 15% of bookings will cancel over a given year and around 80-90% of those vacancies will rebook, typically at a lower rate. Averaged over a year, you're more likely to come out slightly ahead due to the cancellation penalties guests pay.
Vacancies
Depending on your cabin's size, we'll typically see around 80% to 90% occupancy for the year. Our "inventory" is perishable and if a day passes vacant, we'll never capture those lost earnings.
That said, we will never sacrifice guest quality just to get someone staying in the cabin. We should almost always stay above hotel rates (after cleaning is figured in) and build a connection with guests.
The industry average for Gatlinburg/Pigeon Forge ranges between 51% occupancy (1 bedroom) and 43% occupancy (5+ bedrooms) and you will almost always be above that. So don't worry when we have some mid-week vacancies sprinkled randomly throughout the year!
Insurance
It's important to know where gaps are in coverage for your cabin. Here is a quick run down of issues that may arise and where insurance kicks in.
Airbnb: They have a $1,000,000 damage policy that we're able to make claims against for any major damage. If a guest does major damage to your cabin, we're able to file a claim with supporting proof and estimates and attempt to collect. Like an insurance adjuster, they may adjust the payout based upon the useful life of an item. For example, a couch that is worth $1000 but is 10 years old may only get you $300 on the claim. That said, less than 1% of our stays have a claim, so true damage really is a rare occurrence.
Vrbo: They do not have an insurance policy similar to Airbnb so instead we require a $250 damage deposit. If the guest causes damage, we're able to take that deposit money and apply it to repairs.
For both scenarios, any amount that is not collected from insurance can be requested from the guest. Guests rarely pay what is asked so at that point there are two options:
File a claim against the guest in court
File an insurance claim with your homeowner's insurance policy
So far, we've never had an issue go this far, but that is what would play out. As of the date this was written, we've had only one homeowner have to make an insurance damage claim and it was due to a tree falling into the house after a big storm.
If you want additional insurance, a third party can offer guest insurance that covers this gap. It's generally $60 or $70 for an extra $5000 coverage per guest.
Financially, it makes more sense to self-insure and not get this policy. If you have 100 stays in a given year, that could be $6000 directly out of your pocket. The likelihood of there being 2 large claims in a year like this is very small. But, if it gives you peace of mind then just let us know and we can discuss specifics.
Booking pace
Setting nightly rates properly is the single biggest factor in your revenue success. The best way to tell if your prices are set correctly is if you're booking on pace.
We closely monitor area occupancy so that when cabins are 50% booked, your cabin occupancy is in that same ballpark. If your prices are set too low, your occupancy will be too high. And the inverse is also true – if you're not getting bookings on par with the market, prices need to be lowered.
Of course, there are other factors that play into bookings – photo quality, reviews, etc. – but for a given cabin and listing we need to make sure your pace is appropriate.
When you hear from owners that proudly talk about how their cabin is booked up solid for the next 6 months, know that they may be leaving 50% of their income on the table.
To give you a ballpark, depending on the time of year, we'll shoot for:
60-80% occupancy over the next 30 days
25-40% occupancy over the next 90 days
In other words, we don't want to see many bookings 2 or 3 or 4 months out at all. An exception to this rule would be larger cabins in the 6+ bedroom size where people tend to plan further out.
Reviews
We list your cabin on over a dozen rental sites including Airbnb, VRBO, Kayak, Expedia and others. We know that having a good vacation experience directly impacts the reviews, so the messages we send before their stay go a long way to building goodwill when inevitable issues pop up.
We immediately begin communicating with a guest after they reserve a booking, giving answers to common questions, sharing a local guide book, a coupon book and otherwise building rapport.
We check on guests during their stay and send them a reminder message about checkout. Finally, we thank them for their visit and ask for a good review.
In other words, we do our best to control their entire experience so that we can address any immediate issues as well as be tipped off to maintenance that may be needed after checkout.
As guests leave reviews, we display them in your owner dashboard so you can learn how your cabin is doing. All reviews are displayed to you — they aren't filtered in any way.
There are a few important things to note:
We aim for an overall score of 4.7, which is an A+
Allow at least 20 reviews to get an accurate average score
We always watch these reviews as that's important for us to monitor and address
About 1 in 10 guests are overly demanding and otherwise an unreasonable pain. Realize these people leave reviews too – so no need to get worried when a less-than-perfect review comes in.
Pets
First, we almost always recommend you don't allow pets. While people do search for cabins that allow pets, it isn't in the top 5 search criteria so you're not losing out on a lot of bookings. When you allow pets, you open up the possibility of damage due to separation anxiety, irritable bowels and just plain bad animals.
The cleaners will also curse because dog hair gets everywhere – from under the bed to the window blinds. A cabin that allows dogs should plan on getting an extra deep clean or two a year, just to avoid cleanliness complaints.
It is important to note that there are special cases carved out for ESAs (emotional support animals) and SAs (service animals). Legally ESAs are not required to be accommodated.
Service animals, on the other hand, ARE legally required to be accommodated. They are to be treated as any other person, which means you can't even ask for a pet fee. When presented with a service animal, you are allowed to ask two questions: is this animal needed for a medical condition and what specific task is this animal trained to perform. Guests almost always back down when asked these questions, presumably because it's not actually a service animal.
When asked for permission, we will always try to avoid allowing pets due to "allergies." It's an easy answer that is acceptable for most reasonable guests.
Sometimes guests aren't reasonable and will sneak a pet into the cabin. Typically, we aren't aware when this happens and only find out when cleaning up a bit of pet hair or food. In that case we just bite the bullet and accept it. If major damage occurs, we'll attempt to make a claim for a rules violation.
Owners of 1 and 2 bedroom cabins can see a boost of around 10% in income when becoming pet friendly. We won't charge a specific pet fee to these bookings which makes them feel like they're getting a great deal. BUT we will be able to raise nightly rates which is what enables you to get more money. None of our owners of larger cabins allow pets so I don't have hard data to give revenue numbers.
FINANCES
Avada management fee
Avada charges a flat 20% management fee on all bookings. We do not charge a monthly fee, hot tub fee, supply fee or any other fees that are commonly charged to owners by local managers. Guests will cover all the ancillary fees that are required including local taxes (approx. 12.9%), credit card processing fees, and cleaning fees (which includes consumable supplies).
Any extra income that is received (such as canceled bookings penalties) or monies returned (due to an issue with a stay) get shared proportionally between both owners and Avada in proportion to your management fee rate.
Here is an example of a booking and the corresponding payout:
| Transaction Amounts: | | |
| --- | --- | --- |
| Nightly Rental Revenue | $1,000 | (Nightly rate) |
| Taxes (12.9%) | $129 | (City, state, occupancy/lodging taxes) |
| Platform Booking Fee | $100 | (Vrbo/airbnb's internal fees which are paid by the guest) |
| Professional Housekeeping | $100 | (Cleaning and "on the ground" guest support) |
| Total Paid By Guest | $1,329 | |
| Owner Receives: | | |
| --- | --- | --- |
| Nightly Rental Revenue | $1,000 | |
| Avada Management Fee | ($200) | |
| Online Agency and Credit Card Fees | $0 | (Passed through if it exists.) |
| Avada Inspections | $0 | |
| Guest Amenity Fee | $0 | (No charge for consumables like soap, paper towels, etc.) |
| Total Paid to Owner | $800 | Net Rental Revenue |
Pricing strategy
THIS is one of the main reasons why we believe you'll have more success with Avada than other managers and why we've yet to find anyone outperforming our numbers. (The other reasons being our great guest support and cabin maintenance team)
Avada's founder Justin hails from back in the dot com days and ran a tech consultancy for 15 years before starting this company. We've written a pricing engine that is specific to our market. We constantly monitor Airbnb, Vrbo, and two large local cabin companies to watch availability and pricing. At a glance we know your occupancy and the area occupancy and adjust pricing to make sure our booking pace is where it needs to be.
We're happy to geek out about the tech details, but here is the approach in layman's terms…
As availability goes down due to local events (like Rod Run) or major holidays, we dramatically spike prices.
If an event gets moved, we can see one weekend having cancels and another weekend booking up, so we adjust accordingly.
If your cabin is getting a lot of bookings 2 or 3+ months out, that means you're underpricing your cabin. This is a very common mistake a lot of managers fall for. Our area gets enough traffic that we don't need to be desperate and take a low dollar booking 3 or 4 months away. We instead should hold out for a higher dollar booking.
But we don't mind an occasional far out booking as it locks in some guaranteed money. We'll likely raise rates a bit around those days when that happens, so we don't miss out on capturing higher nightly rates.
If you're having a lot of last-minute bookings at discounts, we know that prices are too high so we lower them.
We ALWAYS want to be priced more than hotels for a given stay. This keeps out most knuckleheads.
Rates 90+ days out are raised 10-20%. We want to take advantage of the planners.
For most cabins, "last minute" stays will be within 21 days of today. We'll gradually reduce rates until it's 20-30% off our desired rate. While this gets "heads in beds", we don't drop prices below the minimum rate set for your cabin.
Your cabin will generally be priced higher than similar cabins.
We adjust pricing automatically/algorithmically daily. We manually review booking pace weekly to make sure things are operating as expected. There is both an art and a science to pricing!
Minimum nightly rates
When we set a minimum nightly rate, we do so based on four main factors:
Size and quality of your property
Rates of similar properties
Time of year
Proximity to the booking date
When averaged across the year, we'll almost always beat the average nightly rate for a cabin your size while crushing the occupancy percentages. You'll find that there are big swings in rates both during the time of year and day of the week.
For example, a mid-week stay in February may be $70/night while a holiday weekend in November can be $500/night. When you average that out across the year, your cabin will be $150/night.
When setting a floor nightly rate for your cabin, we do it based on the factors bulleted above. We never want to have a stay below hotel prices, especially when figuring in the taxes and cleaning fees our guests will pay. This assures we keep out the "riff raff" while keeping "heads in beds" and making you money.
To share specifics, as of this writing, minimum prices are around:
– $70-80 night for 1 and 2 BR
– $100-120 for 3 and 4 BR
– $200+ for 5+ bedrooms
For some owners it can be hard to come to grips that a cabin that rents for $500/night the last week of December may be $70/night the very next week. Just know this is totally data driven on our side. If that happens to be an area of concern, be sure to check out the "Myth of guest wear and tear" section where I drill into the financial repercussions of lower nightly rates.
Peak season vs slow season
Having 80+% occupancy year-round is a huge draw for owners in our area and something most other vacation spots can't claim. However, there definitely is a slow season both in occupancy and nightly rates.
You can see the average area occupancy across thousands of cabins for the year in the gray lines in the chart below.
We'll definitely do much better than the average and that is achieved through lowering nightly rates to an appropriate level. We will charge more than a comparable hotel but it'll be much less than during peak season.
You can see what revenues will average on a month-by-month basis here. Obviously not every cabin is the same, but this will give you a rough ballpark of how earnings will change.
In a nutshell, January to March will bring in half of what October to December will earn. It can be an unwelcome surprise the first time you experience low season – both with the lower earnings and the lower nightly rates. But it's nothing to worry about, as things will pick up again in March/April.
Getting paid
We'll have your payment scheduled for direct deposit on or before the 14th of every month for all of your bookings the previous month. Payment will be for all of your bookings in the past month, less the Avada fee and any repairs or maintenance that have been completed.
Payments are based on the amounts and dates of when our bank receives the deposits from Airbnb, Vrbo, etc., so if a booking begins on Jan 30th it may be possible payment is not received until Feb 1. In that case, the booking's payment will be included in the next month.
The numbers reflected in your dashboard may differ slightly from your bank deposit. This is because the dashboard numbers are based on the booking sites' programming while the final payout is based on the actual monies received. Discrepancies are rare and are typically not more than $50.
Initial launch pricing
When we first launch your listing, we need to get momentum. Just like a snowball at the top of the hill, we need to start slow and get bigger as we go.
To do this, we'll be aggressive with pricing to improve our 'look to book' ratio. The listing sites see your listing convert guests at a higher-than-average rate and will feature it more prominently. This results in more eyeballs and more bookings. After each booking, we'll adjust our base pricing upwards a bit, enabling us to get more money. This cycle repeats for 2 or 3 months until we've dialed in your ideal pricing strategy.
If we start the price too high, this virtuous circle will never kick off and our little snowball will never grow. (Without cutting the nightly rates drastically for a couple of months which nobody wants!) It's also worth noting that the main listing sites allow us to offer 20% off to the first 3 booking guests. We definitely include this into our pricing strategy as it accelerates the process.
Depending on the timing of your cabin launch/cutover, we may have 'last minute' bookings that happen in the next 30 days. Those by their nature can be 20-30% below what we'll normally get, so don't be alarmed. Just figure it into your budget as the first month or two will have a bit lower earnings and some amount of startup expenses as discussed herein.
CABIN CARE AND MAINTENANCE
Budgeting repairs and maintenance
Your cabin has all the regular maintenance items that you have at home now: water heater, AC, plumbing, electric, etc. You'll also have a hot tub, which tends to not break often but when it does it can run between $200-$1000 to repair. Expect to spend several thousands every 5 or 6 years to stain any decking or siding that may have aged.
At the same time, guests can be hard on our cabins. We keep an eye out for items that need to be replaced and take care of them as proactively as possible. This includes obvious things like cups and silverware, comforters, pots and pans, hot tub floaters, etc. And rarely we'll have something like a broken chair, lamp, TV. (I'll talk about how we handle damage claims in a different FAQ)
If vendors are used for repairs or maintenance, we'll typically provide their invoice with your statement so you have it for your records. We don't mark up any vendor invoices. When possible/appropriate, we'll send our internal team to handle maintenance issues. That allows a service call to be $50 instead of $200.
When you make your budget, plan for 5% of your gross income to be held back for R&M. Then, as issues are dealt with, you can handle it without worry.
As a general rule, we will handle all minor R&M without contacting you. However, for any repairs over $500 we'll be sure to first get your approval. We won't contact you for smaller items or regular maintenance
Minor and Major Repairs
As a policy we can handle most projects that take under one day to perform. This ranges from installing a hot tub to hanging a ceiling fan. You'll need to work with external vendors for larger maintenance projects.
Service Calls
Generally speaking, plan to expect your cabin getting 2 to 4 service calls a month. Most often these service calls are minor and due to guests simply not knowing how your house works. Some of the more common calls we get are:
Trash pickup if the bear cans are overflowing
Water leaking through the floor
TVs not turning on or the remote is broken
Hot tub not heating
AC/heat not working
When a call comes in, we do our best to walk the guest through it remotely. This allows everyone to be happier sooner – the guest is up and running right away and we don't have to juggle schedules and make phone calls to get help out there.
If that fails, we then will dispatch either a handyman or a 3rd party vendor based on the issue and availability. Where possible, we will attempt to fulfill it with our team because the speed and cost will be much lower. Avada labor charges down to the quarter hour and varies based on the person on the call – a trash pickup may be $25 while repairing a hot tub may be $60 to go fix a hot tub or troubleshoot a breaker issue. Note that drive time is included in all service calls by all vendors and our maintenance crew.
We refund liberally
We recognize that this is a service business and that our goal is to help the guests have a memorable getaway. If there is an inconvenience – like issues with the wifi or hot tub – we hop on it right away. If it ends up bothering them, we'll often treat them to dinner to show that we care AND to buy us time to address the issue. A little bit of love up front like this goes a long way when it comes time to get a review.
It's also worth noting that Airbnb has a policy that very much favors guests. Their policies have always stated that if a guest is missing a major amenity, they're eligible for a full refund. That would include everything from an AC to hot water to a hot tub or wifi, if it's in the listing. As of 2022, they expanded the policy to include ANY item that isn't to the guests' liking. This could be a handful of acorns on a deck, a single hair under the couch or a hot tub that won't get up to a hot enough temp. The guest has 72 hours to lodge a complaint and we don't necessarily get an opportunity to address it or respond. Thankfully this hasn't been abused, but because of this it serves us well to refund a few pennies to save a lot of dollars.
The myth of guest wear and tear (personal wear vs guest wear)
We have thousands of guests that stay in our cabins every year so we've seen pretty much anything you can imagine. Some funny – like a guest jumping out of a second story window on purpose – to scary; like the guest that lit the fireplace with gasoline and turned himself into a fireball.
The simple fact is guests will use the cabin and things will get worn. But there is little correlation between nightly rate and damage that may occur. As long as we keep the nightly rates above the area hotels, we'll do just fine. Someone sleeping in a bed and watching TV from the couch doesn't harm your cabin.
Malicious damage such as a bathtub that gets cracked or an oven door that gets ripped off will often be covered by Airbnb insurance. That's true for guests that pay $100/night or $1000/night.
That said, our definition of consumables is definitely broader than what a typical person may consider. THIS is where wear and tear will occur. We plan to regularly replace items including, but not limited to, pots and pans, bath mats, pool cues, silverware, wine glasses, etc. While none of these items are expensive, we will replace them regularly to maintain guest satisfaction.
Your personal home can look just as good as when you moved in because you take care of it. When you have 75 groups a year going through your place, each of them is pulling and prodding on switches and appliances and dressers trying to figure them out. So your place will look different as you come for your yearly visit. Just remember it needs regular care just like a pet or your car would.
Preventative maintenance
On the whole we like to proactively maintain your cabin so that it's properly taken care of. Just like every other home, it'll have everything from AC units to exterior stain to bugs that need to be kept in line. I like to say cabins are our "Goose that lays the golden eggs… But we have to keep it fed so it keeps laying those eggs!"
Here are some examples of preventative/regular maintenance that we do on your behalf. Of course, prices will vary a bit based on the company used and cabin size.
Septic tank pumping: Once a year, $400
Lawn mowing: Twice a month during season, $50-$80 a session
Hedge trimming: $150 twice a year to trim back and shape the hedges
AC preventative maintenance: Twice a year (for summer and winter), $125 per unit per visit
Extermination: $85 per quarter
Fireplace inspection/make ready: $100 every winter
Hedge trimming/yard cleanup: Once or twice a year, $50-250 per visit
Window washing: Once or twice a year, $300 per visit
Carpenter bee service: Twice a year, $200 per visit
Deep clean: Once a year, around 3x a normal cleaning price
Christmas: $300-$400 the first year to purchase supplies and set up/take down. $150 after that to set up and take down.
Home warranties and why you probably don't want them
When making a residential purchase, it's common to receive a one year home warranty policy from a company like American Home Shield. The warranty is supposed to cover mechanical items that break – air conditioners, plumbing issues, etc.
In reality, attempting to get warranty service can take days, if not weeks. And when the service is performed, the fee is often the same as if you called someone out of Yelp or Yellow Pages.
In our universe, we need to respond to guest issues in hours, not days. A dishwasher or hot tub being out will easily result in at least a 1 night refund until it gets addressed. You can imagine the cost should we have to refund several nights or a couple of guests while we wait for a home warranty service. It is not practical in this service environment.
Extermination, carpenter bees and bed bugs, oh my
Critters are always present in the mountains and we do our best to keep them at bay. Here are a few of the ways we address it:
Roaches and ants: We exterminate quarterly at a cost of under $100. Should bugs come out, the company will typically come re-treat at no additional cost.
Millipedes and ladybugs: Once a year, many cabins get an unwelcome visit from one or both of these critters. These infestations are transient, typically lasting just a couple of weeks and unfortunately there is very little we can do for them.
Carpenter bees: These bees love cabins and like to burrow small holes in your fascia and log siding to lay their larvae. That's not as big of a problem as the woodpeckers that come to feast on the larvae, putting big holes in the wood. We typically treat twice a year to help minimize the bees and it'll cost around $150-$200 per treatment.
Rodents: Being in the woods, it's common to get these guys as visitors. When we learn they're around, we'll place out traps to try and get rid of them the easy way. If we fail, then we'll call in the big gun exterminators.
Bed bugs: As you can imagine, these are horrible when they decide to show up. We do our best to prevent transmission – not sharing vacuums between properties, bagging all linen after the dryer, etc. When they are discovered, there are a couple of different treatment options – heat, foam, steam, poison gas, etc. Each have pluses and minuses, but all of them are quite expensive. It'll cost at least $2000 for a small cabin and possibly $4000+ for a larger cabin.
Shipping items for your cabin
When you ship cabin supplies to our office for your cabin, there are a few things to keep in mind. First, be sure to address it to your cabin's name first and then your name. For example: Lazy Bear (Justin). That way we know exactly where it goes.
Next, take a screenshot of the order and a photo of the item and add it as a Task in your owner portal. That way we know to expect it.
Finally, be prepared for shipments to get lost or delayed. Our USPS is notorious for losing packages so keep your expectations low.
After all your shipments arrive, we'll then arrange delivery to your cabin. We like to bundle items together with repairs to cut down on service call charges, so it may be a week or two until it gets completed (unless it's urgent of course).
Items can be shipped to:
[your cabin name]
Avada Properties
2850 Parkway, #20
Pigeon Forge, TN 37863
If you plan on shipping a lot of items, please call and discuss. We're not really equipped to house and deploy massive order shipments so we'll want to talk through it first.
Owner closet item storage
If you want to store extra items at your cabin for us to use, we're happy to make a best effort at using them. We'll need to note what those items are – extra blankets, a chair, Christmas décor, etc – so when we see an issue we can address it. Just know that it's possible we won't be able to use your extra pillows/blankets/coffee maker if an issue arises, as we're often more concerned with speed in addressing guest issues and don't want to inconvenience them going into a closet to pull out a dusty blanket (for example).
Towels, sheets and bedding
We use universal linens across all of our properties which helps us assure quality results for all guests. As part of that we charge a replacement linen fee twice a year to replace the stained/damaged linens. Price-wise this runs around $25-30 for a set of sheets to $25 for a set of towels.
Comforters are removed and washed during deep cleaning as well as when they get soiled or stained. It's suggested to keep an extra blanket/comforter at the property so we can swap those out as needed.
Cleaning
Having a reliable and high quality cleaning service is critical for success in this business. We heavily lean on our cleaners to report damages and maintenance issues, going so far as to give them direct access to our ticketing system to view and comment on open tasks.
It's important to recognize that we straddle a line with cleaning, doing our best to deliver a service that is "good enough" for guests while at the same time costing as little as possible. We could do a 'deep clean' every turn, but that'd likely cost more than you earn every month. Instead we focus on what's important – bathrooms, kitchen, hot tub, floors – and get a bit more lax with lower importance items like dusting blinds or cleaning under appliances.
We ALWAYS want to do a good job, but it's important to realize that this is a balancing act. Given we've averaged 4.85 stars over years and thousands of guest visits, I'd say we have this dialed in.
Cleaning a cabin vs staging a cabin
When we clean a cabin, we do our best to satisfy guest expectations without breaking the bank. As you'd expect, the cleaners need to have the cabins in ready-to-use shape for guests, with clean bathrooms and kitchen and freshly made beds.
It's important to realize that while the cleaners will clean and straighten the cabin, they won't generally "stage" the cabin. They'll straighten it to what seems right, but aren't able to spend the time putting things EXACTLY how you want them.
Let me explain by way of examples:
– The TV remotes may be on the nightstand or the dresser but not in a little basket next to the TV
– Books will be placed neatly on the shelf but not alphabetized
– Dining chairs will be pushed in, but not with a specific chair at the head of the table
– Dishes will be placed in the cabinets, but we may put all the cups on the left instead of the right
– Throw blankets will be placed on the bed but not at an angle covering a single corner
Said another way, you have a way that you want the cabin to be set up. But with short timeframes and staff that can change, it's just not reasonable to expect it to be professionally staged on every turn.
Trash
The cleaners will haul away any trash to the dump that the guests leave behind as part of their cleaning fee. You shouldn't need to pay for any garbage services. Note that oversized items you leave behind (boxes, old furniture, etc.) may require a special trip.
Supplies
The cleaners also provide supplies as part of their cleaning fee. This includes all starter consumables for guests – soap, shampoo, tide pod, dish pod, sponge, garbage bags. The cleaners will also provide hot tub chemicals so you don't need to worry about that either.
Hot tubs
These bad boys are the single most popular amenity that guests look for, so it's important to do them right. As a policy, we drain, wipe down, and refill the hot tub after every guest. The tubs are treated after every guest with bromine, which is like chlorine but without the harsh smell. The hot tub filters are also washed out every turn and you should expect to spend $50 a couple of times a year to replace those if you have a bad water supply. Every year or two you should expect to flush the tubs with acid to clean out the pipes and every year or three you can expect to spend $500+ to replace a hot tub pack, motor and/or topside control panel. I know this sounds like a lot, but it really isn't so bad in the grand scheme of things.
Septic pumping
Most cabins have a septic system for sewer needs. You can watch a YouTube video to get a good handle on how a system works, but beware because it's a "dirty job"!
We like to pump the septic tank once a year to remove all of the waste that wasn't able to be leached into the septic field. This includes all the gunk and wet wipes and plastic toys that get flushed down toilets throughout guests' stays.
The cost of pumping a septic tank runs about $350-$400 per visit. The price may go up or down based on the volume of material pumped as well as any digging that was necessary to reach the tank.
If a septic tank gets full, toilets and showers tend to drain slowly. That's the warning sign that something needs to be taken care of urgently. We don't always get that warning and without regular pumping toilets don't flush and showers start backing up with gunk. As you can expect, when guests have that happen, they aren't happy.
If you don't know the last time your tank was pumped, we recommend getting it serviced to start with a clean slate. We'll then set it up on a yearly pumping schedule. If your tank doesn't have a riser installed, we'll also recommend this one time expense of around $150 as it allows for easier/cheaper access for future pumps.
OWNER'S PORTAL
Initial account setup
Once you've signed an agreement and are ready to set up your listing, we'll make you an Avada Portal account. This account will be your gateway to monitor and maintain your cabin. You'll be able to:
View bookings dates and amounts
Compare your cabin's performance vs other cabins in our market
Make owner blocks
See unfiltered guest reviews
Download monthly account statements
Submit and track maintenance tasks
Just like our pricing engine, our software is written in house so if you have a feature request, just ask.
Dashboard
When you first log in, you're presented with the dashboard. This lets you see your year's bookings at a glance. Bookings where we've already received payment are one color, while future bookings are shaded another.
One thing you need to really take a minute to analyze and understand is the performance metrics at the bottom of the page. Here we compare your cabin to other cabins in our area that are the same size.
Occupancy
This tab shows what the average occupancy is of a cabin for that particular month. We always shoot to be about 70%, even in Q1 (slow season). Notice we plot both the 50% (dead average) and 75% (well above) lines so you can see how booked those cabins stay. Almost all of our cabins will fall into the 'average' category visually/amenity-wise, as our area is very homogeneous. We achieve higher occupancy through correct pricing that is updated daily, good reviews, and great photographs.
Performance
The information shown on this tab compares your nightly rate with the typical cabin size and shows you a "bottom line" on your occupancy and overall earnings.
Calendar
Whenever you're wondering how your cabin is performing, this is where you want to go. On this page, you'll be able to see all of your bookings and the corresponding amounts for the period of time we've managed your cabin.
You'll also notice the nightly prices that we use and can see how we approach this VERY important aspect of the business. (More on how our pricing system operates is detailed in the Finances section)

The booking amounts displayed are approximate based on information received from the booking platforms. We'll reconcile prior to your monthly payout. Bookings that occur at the end of the month may be paid out in the next month as we reconcile based on when funds are received.
Owner stays
We fully encourage you to use your cabin as much as you'd like! If you ever want to make an owner block, just log into your portal account and click the 'Create Owner Stay' button. You'll be prompted to select the days you want to block and add a note for a description that we'll both see.
We'll automatically schedule a regular cleaning after your stay and that'll get billed to your account at the posted rate. If for whatever reason you don't need a clean (Ie – furniture delivery), just create a Task asking us to remove that clean.
Upon successfully making an owner block, you'll receive a confirmation email with the dates and a door code for your visit.
While we will take great care of your cabin, when you come to stay, you'll see and address things that we may not. Your critical set of eyes while actually staying in the property is invaluable for us maintaining it.
Friends and family discounts
Since we are using primarily 3rd party sites (Airbnb, Vrbo, Expedia, etc.) to book, it'll take a couple of steps:
Submit a Task in your owner portal letting us know their name and what percentage discount to give.
Send them your Airbnb link. Ask them to select the dates of their stay and then scroll down to click the 'contact host' link to send a message asking for a discount.
We'll respond to them with a 'special offer' that includes the appropriate discount
Reviews
We list your cabin for rent on over a dozen listing sites including Airbnb, VRBO, Kayak, Expedia and others. We immediately begin communicating with a guest after booking, giving answers to common questions, sharing a local guide book, etc.
We check on guests during their stay and send them a reminder message about checkout. And finally, we thank them for their visit and ask for the review.
In other words, we do our best to control their entire experience so that we can address any immediate issues as well as be tipped off to maintenance that may be needed after checkout.
As guests leave reviews, we display them in your owner dashboard so you can learn how your cabin is doing. All reviews are displayed to you — they aren't filtered in any way.
There are a few important things to note:
We aim for an overall score of 4.7 stars, which is an A+
As of this writing, over the last 8000 reviews we've received we average 4.8 stars
Allow at least 20 reviews to get an accurate average score
We always watch these reviews as that's important for us to monitor and address
We respond to almost every review that gets posted because future renters will look to confirm any issues have been addressed and to get a feel for us as Hosts
If for whatever reason we happen to get started off with a low review score, it's always possible for us to start over from scratch
Tasks
As you have maintenance needs or ship items to the cabin, you'll want to submit a Task here. Doing that enters it directly into our internal ticketing system where it can be reviewed and scheduled for completion. This allows us to group together your service calls (which saves you money) and schedule tasks in the same area at the same time to reduce handyman/runner drive time (which also saves you money).
We're busy folks on this side and you can imagine how easy it is for something to be lost if we get requests through email, text, voicemail and phone calls. By adding it here, you can follow task progression as we ask questions, schedule, and complete your requests.
Task requests can also simply be questions or items meant for clarification as well.
Owner statements and documents
Every month, on or before the 14th, we'll post your account statement for the previous month here in your portal. Your bank transfer will be initiated the next day as well. Your 1099 for the year will also be available here at the end of January.